After 2 years of a pandemic, am I the only one looking at 2022 as a bit suspect? I hope the year will be kind.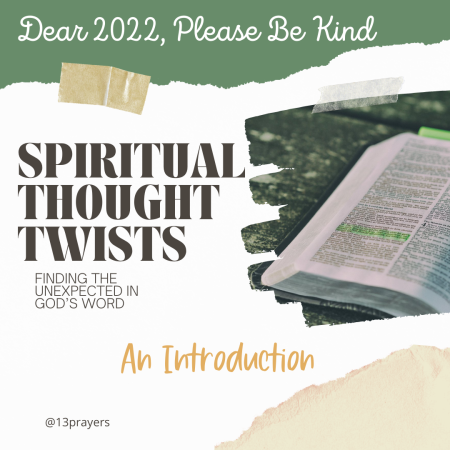 Let's have fun and be kind anyway.
First, let me introduce myself. I'm Kathy Shaull – the face behind 13Prayers. I'm a retired educator and a writer, and I'm thrilled to have you here! If you need to know more about me, check out the Start Here page.
The title of my little corner of the Internet comes from the 13 prayers God put on my heart for my readers when I first started this adventure. Watch the video below to see what those are.
Clicking on a prayer will take you to a separate post that takes you deeper into what it means to me, so here's a list:
(Clicking on each prayer will take you to a brief explanation/blog post from 2020.)
What's ahead for 2022?
As a suspense writer (the end of my trilogy set in SW Oklahoma comes out this quarter), plot twists are my favorite things. One day, as I was reading Scripture, I came upon a verse that wasn't exactly a plot twist – it was a Thought Twist.
A Spiritual Thought Twist.
As I kept looking, I found more and more scriptures that followed the same pattern: the world believes on thing… BUT GOD…!!!
So as we face another year of COVID and more chaos, we're going to focus our attention on these SPIRITUAL THOUGHT TWISTS. I hope you'll join me – and maybe invite a friend.
Adore – Father, You are the same yesterday, today, and tomorrow. In a world of uncertainty, we are blessed to have a consistent God! You are always faithful!
Admit – I admit that I struggled during the busy holiday season to carve out enough time with You. I do truly desire to do better this month!
Ask – I ask You to lead us closer to You and in specific directions that will further Your kingdom and bring You glory. Help us focus on the eternal.
Acknowledge – We thank You, Father and Lord Jesus, for Your favor and blessings from this past year. You are so kind to us. May we be kind to all we encounter.
Thanks for stopping by today. Why not drop me a note on Instagram and tell me a bit about you?





by