In my examination of the 13 Prayers, this post on service is the last.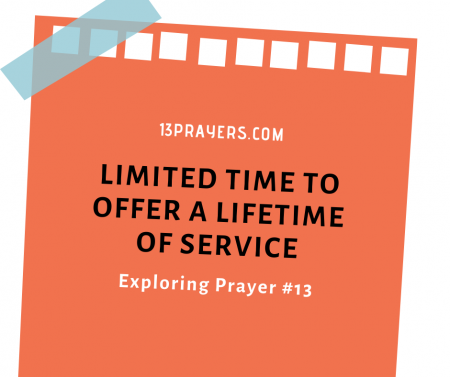 The prayer:
To offer your gifts and talents back to God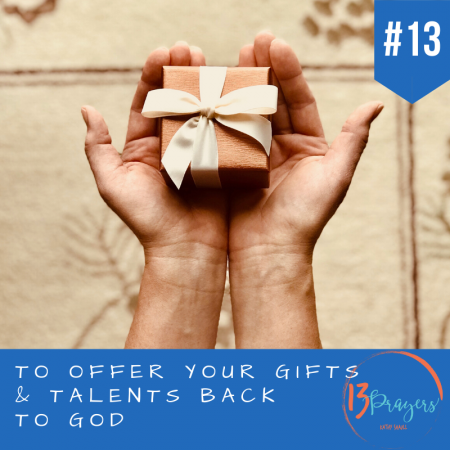 Why it matters:
Jesus' blood/My service:
Romans 12:1 tells us, "Therefore, I urge you brothers, in view of God's mercy, to offer your bodies as living sacrifices, holy and pleasing to God – This is your spiritual act of worship." Our service (Using gifts and talents to further His Kingdom) is the best way for us to worship Him. I couldn't pray for you without urging God to use you.
Let Service Shine
"You are the light of the world. A city on a hill cannot be hidden. Neither do people light a lamp and put it under a bowl. Instead they put it on its stand, and it gives light to everyone in the house. In the same way, let your light shine before men, that they may see your good deeds and praise your Father in heaven." (Matt. 4:14-16)
Don't feel you have to work behind the scenes. Your skills and talents can show others who God is. We were made for this. "For we are God's workmanship, created in Christ Jesus to do good works, which God prepared in advance for us to do." Eph. 2:10
Service for Kings
You never know where your gifts may lead you. I never imagined I would write books or blog posts, yet God led me here. "Do you see a man skilled in his work? He will serve before kings; he will not serve before obscure men." Prov. 22:29 I pray that God will take your skills and unleash His favor on them, taking you to unimaginable opportunities to further His work.
Service for Mankind
In 1 Peter 4:10-11, we see, "Each one should use whatever gift he has received to serve others, faithfully administering God's grace in its various forms. If anyone speaks, he should do it as one speaking the very words of God. If anyone serves, he should do it with the strength God provides, so that in all things God may be praised through Jesus Christ." Do what you do so that in all things God may be praised. We don't do this to put ourselves in the spotlight. God deserves the praise.
Gifts from above
We often speak of a person's innate abilities as being "gifts." The gifted athlete who dunks the basketball/breaks tackles/throws the curve ball effortlessly. The artist who captures emotion through their paint/clay/photos/ink. I want you to look at a familiar verse a bit differently today:
James 1:17, "Every good and perfect GIFT is from above, coming down from the Father of the heavenly lights, who does not change like shifting shadows."
God is the source of our talents. He gave them to us quite deliberately.
Perhaps he gifted you in Math and not so much in artistic ability. Great! Go use your math passion for Him!
Did He bless you with a green thumb? Great! Then go grow your garden for God.
Find where your gifts/skills and passions intersect. That's where God intends for you to serve. Don't keep Him waiting.  How sad would it be if He planned for you to do…XYZ, and you refused? The "I can't/I'm not qualified/ready/good enough yet" excuses don't fly with Him. He will put you in the exact situation and give you a chance for service. If you refuse, He will find someone else to meet the need. But you will have missed your chance for a major blessing – the blessing that comes from knowing you've used your God-given gifts and talents to give back to God.
Father God, help us to nurture our talents and passions into usable service that shows others who You are and how much You love them. Use us. Surprise us!

Thanks for stopping by today. Why not connect with me on social media @13prayers ? And check out the other prayers here.





by