Celebrate the Names of Christ with a Scripture writing kit!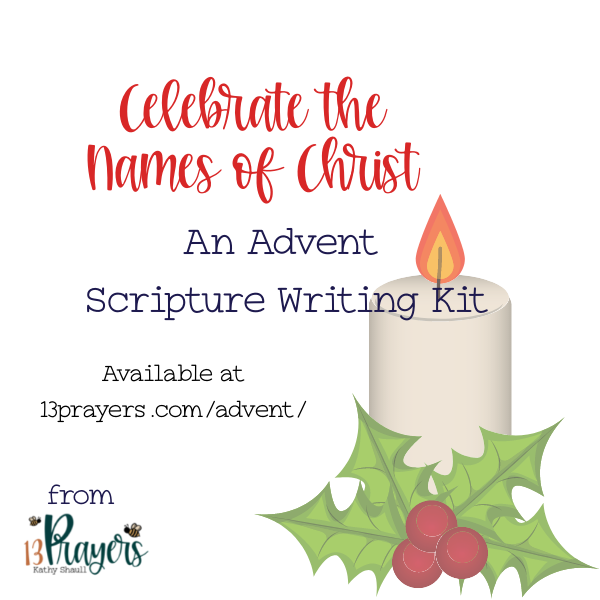 If  you are looking for a fun Advent project, check out my Scripture Writing Kit. We will write out 2-3 verses daily as we explore the 50 Names of Christ. Set to begin December 1st, this is a fun way to learn more about who Christ is while we prepare to celebrate His birth.
For only $7, you will receive:
A December calendar with the verses for each day (both Sunday-start and Monday-start included)
Colorful clip art to decorate your verses
Day numbers 1-25 (both in a red/green set or in a black/white set)
Two sizes of headers of the 50 names of Christ to label your daily entry
Blank headers for you to do your own hand lettering if you choose. (both sizes of blanks included)
PDF with all the verses/Scripture references, directions and suggestions on how to utilize the kit, as well as links to purchase items that you may want to consider using. (NOT affiliate links.)



FAQ:
This is a busy time of year. How long will it take?
The project is designed to be quick and easy during a busy season. In fact, the last few days are combined so you won't be writing on December 23-25 unless you need to catch up. All verses have been provided for you in one of the printouts, so you don't even have to search for the Scriptures of the day. You will write 2 verses per day.
How do I set this up?
Be creative! Use what you have on hand. I used kraft tags I had as the base of mine that I'm giving as a gift. I used only what is provided in the kit. I will include some twine and mini clothes pins for hanging. (I had some blank library cards I considered using for the base, but only had 19 of them…) Here is a link to my Advent Pinterest board with several ideas!
But for my personal version, I put my verses in an A6 notebook and used holiday papers, stickers, and washi tape. (The 12×12 paper set I used was "Yuletide Blessings" from Hobby Lobby.
Do I have to do it as a daily writing project?
Of course not! You know your schedule. Batch several days at once or do all of it in November. Then as December arrives, simply read/discuss the verses with your family and praise God for His wonderful Son!
How long/much for shipping?
This is a digital product. You will receive access after your payment. Nothing will be shipped.
Click now to purchase the kit for $7.