Less Fear More Jesus: Christian Support in a Time of Crisis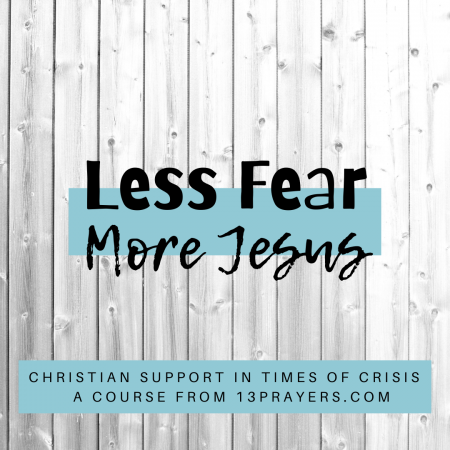 Welcome!
Less Fear More Jesus is a FREE Online, Bible-based course that opened during the global COVID-19 pandemic.
Basic Information:
The course is completely

free

, and it will remain

free

.
All you need to do to access the course is to fill out the enrollment form when you follow the link below. You will need to provide your email, but we will never sell your email or other information. I respect your right to a spam-free life.
I encourage you to also sign up for website emails to ensure you get all the updates about the course.
If you join us late, it's no problem. Work at your own pace. If you get behind, it's no problem. Work at your own pace. Don't let the course add to any stress you may have during these uncertain times. Just add more Jesus.
I am a mixed-media artist, so my responses to any prompts are done in that fashion. Do not feel like you must copy what I do. Respond in a way that feels right & uses materials you have at home. I do not intend for this course to cost you anything to participate. Write, draw, sew, quilt, crochet or pottery. Do what feels natural to you. We are just focusing on putting more Jesus in our days. Even if all you do is copy Scripture into a notebook, you are spending additional time in the Word which is more time with God. That is our goal.
Class Format
Scripture
Music via YouTube
Discussion questions
Art prompt
Encouragement to join and participate in our Facebook group: Less Fear More Jesus here.
New Members Click Here to Register Today