My 9th prayer for you relates to survival tips.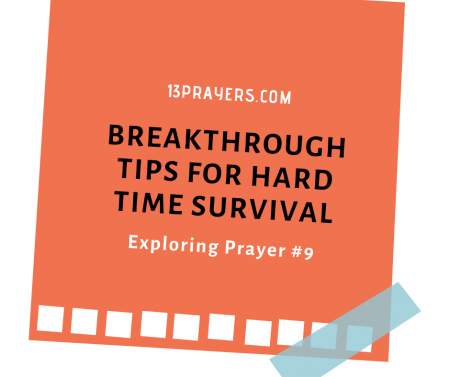 The prayer:
That you would only pitch a tent in hard times, not build a cabin.
Why it matters:
Survival Tips?
Oh, Dear Reader, how I wish I could promise that a close and growing relationship with God would mean that your life transforms into sunshine and roses 24/7. But it doesn't. In fact, when you really begin living for the LORD, you become a threat to evil, and the enemy will most likely place you in his cross hairs.
Survival Tip #1: Keep Moving Through-
Check out Isaiah 43:2, "When you pass THROUGH the waters, I will be with you; and when you pass THROUGH the rivers, they will not sweep over you. When you walk THROUGH the fire, you will not be burned; the flames will not set you ablaze."
Did you see? God isn't promising to keep us FROM floods of emotion or trouble. And He doesn't say He'll quench the flames of anger or attack BEFORE they get to you. No. He says WHEN, not IF. The water and fire will reach you, but God will get you THROUGH them.
Don't stop in the middle of your troubles and build a cabin. Just pitch a tent if you need a quick rest. Then – once you've plugged deeper into God and been recharged – pack up your tent and move on through.
Survival Tip #2: Don't Freak Out-
As I said in tip #1, those tough times are a-coming, so don't let them scare you. Be prepared and have a plan: turn to God. Psalm 46:1-3 tells us, "God is our refuge and strength, an ever-present help in trouble. Therefore we will not fear, though the earth give way and the mountains fall into the heart of the sea, though its water roar and foam and the mountains quake with their surging."
The picture I get from these verses is of God's protection in a violent earthquake that literally changes a coastline by mountains crashing into the sea. Would I freak out in that moment? Uh, yep. Should I freak out? No, because God tells us He is our survival source!
Survival Tip #3: Know and Use the Name of Jesus-
Since He is our survival source, we need only call on His name. Psalm 9:9-10 says, "The LORD is a refuge for the oppressed, a stronghold in times of trouble. Those who know your name will trust in you, for you, LORD, have never forsaken those who seek you."
A refuge? [def: something providing shelter from danger or distress]
A stronghold? [def: a place that has been fortified so as to protect it from attack; a place where a particular cause or belief is strongly defended or upheld]
Seek Him, and He will never abandon you.
Also, in Prov. 18:19, "The name of the LORD is a strong tower; the righteous run to it and are safe." The NAME of the LORD is a strong tower – Just His name! When you don't know what else to say, just say His name and rush into safety.
Survival is that simple.
Keep moving
Don't freak out
Call on Jesus
On a personal note, I have to be honest and tell you that I used to have a cabin. I had built it myself with log upon log of worry and anxiety and self-pity and anger and all the things the enemy uses to derail us. My cabin became comfortable and cozy and I stopped trying to get out of it (or my situation).
I didn't know how! And I forgot how JOY felt. Then one day, not knowing what else to do, I just prayed, "Jesus" over and over.
Broken and tearful, soon a new peace washed over me. It's been a long road, but now I know not to pack my cabin to carry along in the tough times.
Now I take a tent. You can too!
Jesus. Jesus. The name above all names. We thank you for the access and relief Your Holy name provides. Tear down our cabin, Jesus. Let us look to You to draw us through the tough times. We know we can count on You.





by