What do you crave?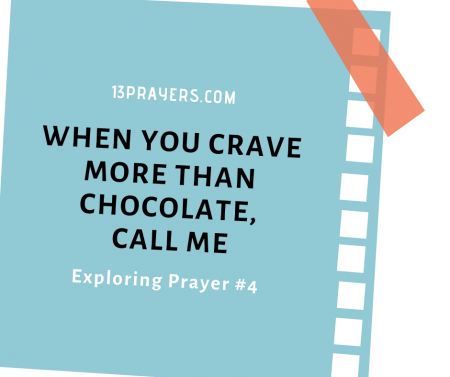 I'm a full-fledged chocoholic myself. And Diet Dr Pepper is my jam. But today I challenge you to choose what you crave.  Today we're looking at the 4th of 13 prayers I regularly pray for my readers.
The prayer:
That you would crave time in the Word more than anything.
Remember the first 3 prayers-
It is my 4th prayer for you that you Crave time in the Word. And I mean that in a real, literal sense. I want you in Scripture so often, so much, that you feel antsy when you don't get your daily fix of God's Word.
We've talked about how being a Christian is a relationship – and the Holy Bible is one vital way God speaks to us. If you aren't reading it daily, then don't complain to me that God seems silent.
Why it matters:
a. I want you to have more faith.
Living a godly life is tough, and a double dose of faith could come in handy, right? So read scripture aloud. Why aloud? See Romans 10:17, "So faith comes by hearing, and hearing by the Word of God."
b. You will find something new every time you read it.
It's an odd thing to re-read a book and see something new in it each time. But certainly this is how Scripture works. "For the Word of God is living and active and sharper than any two-edged sword, and piercing as far as the division of soul and spirit, of both joints and marrow, and able to judge the thoughts and intentions of the heart." Heb. 4:12
c. Scripture comes from God.
Our Father God gave us the Word as both a love letter and a battle plan. We need to be in it daily to learn the lessons He has for us – to be EQUIPPED in every way. "All Scripture is inspired by God and profitable for teaching, for reproof, for correction, for training in righteousness; that the man of God may be adequate, equipped for every good work." 2 Tim. 3:16-17
d. I want you to prosper.
The things we Crave become things we think about over and over and over again. We may find we are "meditating" on them – when will I do this again/eat more/see more/ etc. We should instead be replaying Scripture on a constant loop for maximum personal benefit. See Josh. 1:8, "This book of the law shall not depart from your mouth, but you shall meditate on it day and night, so that you may be careful to do according to all that is written in it; for then you will make your way prosperous, and then you will have success."
I'm not saying that you must spend hours reading/studying every day. We all lead busy lives. Sometimes even a single chapter is too much. So read a heading's-worth or a single verse. Show up for God daily, and He will surprise you.
Thank you Father God, that You gave us this precious book. Help us to crave daily time in it so that we can hear from You. Open our ears and our hearts.
Thank you for stopping by today. You can connect with me on social media as @13prayers. The other prayer posts are here.





by