The Truth About Unparalleled Love is that God loves you. This post is part 3 of the series exploring the 13 Prayers Kathy Shaull prays for her readers.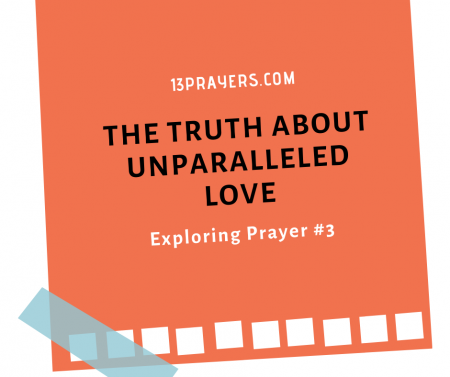 The prayer:
That you would know your place in God's heart.
Why it matters:
Because I want you to sense how important you are in the universe.
God showed His love for you
In a move that reaches beyond my imagination and comprehension, God allowed His Son to be brutally murdered as a payment for my sin. I avoid eternal suffering because of Christ's suffering on the cross. In John 3:16, we read, "For God so loved the world that He gave His only Son that whoever believes in Him should not perish but have eternal life."
This love is on-going
Check out Ps. 139:1-4 & 13, "You have searched me, LORD, and You know me. You know when I sit and when I rise; You perceive my thoughts from afar. You discern my going out and my lying down; You are familiar with all my ways. Before a word is on my tongue, You, LORD, know it completely. For You created my inmost being; You knit me together in my mother's womb."
God knows us inside and out. He created us. God knows when we're sitting or binge-watching on NetFlix or when we get up early to spend time with Him. He knows when our thoughts cross the line. He knows where we go and when we rest. He even knows what we're about to say – before we say it! For anyone to know this much about you takes a considerable investment, and God is invested in you because of His love for you.
So where is your place in His heart?
Smack-dab in the middle! You have worth and value beyond compare. And that matters because I spent too much of my life feeling like I was out-of-place. Unloved. That I didn't matter. But that couldn't have been farther from the truth. For me.
And for you.
God's unparalleled love is amazing. If you don't know Him personally, Meet My Jesus today here.
Father God, I praise You and thank You for Your unfathomable and unparalleled love that would put my eternity above the life of Your precious Son. Help us to daily recognize that love and share it with others.





by