Today is a look at Prayer 12's guarantee.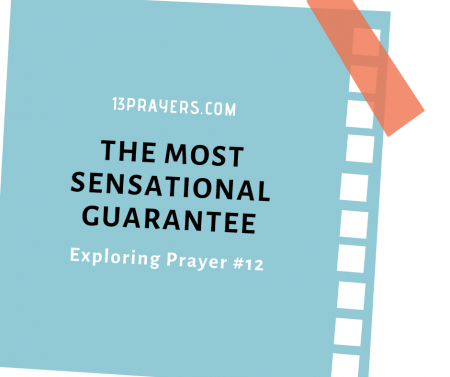 The prayer:
To see that God has been with you in drought and in plenty
Why it matters:
A guarantee that really delivers is rare.
I once spent $199 on a workshop about children with behavior issues (for my day job as school counselor). When the session started, the speaker offered a quick intervention and a money-back guarantee. "Try this for 6 weeks. If no improvement, you'll get your money back." I was pumped.
Did I try it? Yep.
Faithfully implementing it just as he had said? Yep.
Did it work? Yep. And it's one of my go-to standard interventions to this day – at least a decade later.
God's guarantee is better.
There are MANY scriptures where God promises to be with us. Deut. 31:8 is one of my faves, "The LORD Himself goes before you and will be with you; He will never leave you nor forsake you. Do not be afraid; do not be discouraged." He will never abandon us. Meaning He will be with us through anything and everything.
Guarantee through drought
We've already discussed the idea that we're going to have rough patches. Emotionally, we don't want to build our cabin there – just pitch a tent and move on through (see Prayer 9) That we need to recognize we've wound up in a pit – no matter what actions got us there, and we need to call on Jesus to get us out. (see Prayer 10) But today's prayer focuses on a spiritual drought.
I don't usually take theological tips from a tshirt, but one slogan has stuck with me since my teen years: "If you think God is far away, guess who moved."
You can't base God's love for you or where He is on a feeling. There will be times when you feel your prayers can't get past the ceiling. Pray anyway. God hears. You may feel you're not making a difference. Serve anyway. God sees. (The eyes of the LORD are everywhere, keeping watch on the wicked and the good. Prov. 15:3) You may feel alone. Trust anyway. God is there. (I am with you and will watch over you wherever you go, and I will bring you back to this land. I will not leave you until I have done what I have promised you. Gen. 28:15)
Guarantee through plenty
Psalm 121:8 says, "The LORD will watch over your coming and going both now and forever more." Now and forever more? That sounds like all the times – good/bad. Life will also present you with times when you are on a spiritual high. God is close. His answers to your prayers go above and beyond what you could ever have imagined. Those are the times you overflow with an abundance of blessings. And it's here that you have to take note. Since not every day will be like this, we must make strong memories/connections here to recall during those days when things don't flow so well.
Document it
I grew up not far from Lake Altus Lugert in far SW Oklahoma. There was a time when the lake got crazy low due to drought. I'd moved away, but my Dad urged me to come back and document it. The photos were alarming, and I drove away silent and deep in thought.
Before the rains:
Why would he want me to see this? MY beloved lake seemed more like a pond! His answer? So I would appreciate plenty when I see it.
Years later (after another very low lake level spell), God saw fit to fill the lake in a single month. Not only that, but He filled it to overflowing! They had to open the flood gates! So, with Daddy cheering me on from Heaven, I went back to see the lake.
After the rains:
A short video from the base of the dam before they opened the gates. This is just the overflow:
Lesson learned. Document God's overflow, and you have a strong memory to combat drought.
Guarantee for guidance
My final scripture today is Psalm 32:8, "I will instruct you and teach you in the way you should go: I will counsel you and watch over you." Whether you are in drought or flooded in a time of plenty, it's good to know that God promises to: instruct, teach, direct, counsel, and watch over us.
We are so blessed!
Father God, we praise you for your promise to be with us. Help us revel in this precious guarantee. Give us strength in drought and reveal Your blessings in times of plenty. May our outlook in either always reflect Your love.
Thanks for stopping by today. Check out the other prayers here. Look for me on social media as @13prayers





by