Have you ever been in a pit?
Most of us have at one time or another. In Beth Moore's book Get Out of That Pit: Straight Talk About God's Deliverance, (not an affiliate link), the author describes 3 ways people end up in a pit:
get thrown in like Joseph in Genesis 37.
slide in. Accidents happen: I didn't mean to- but I did and then I did it again and more and wrong and I still did it.
jump in. I knew it was wrong, and I did it anyway.
How ever you got there, that life isn't God's best plan for you. So let's look at my tenth prayer for you.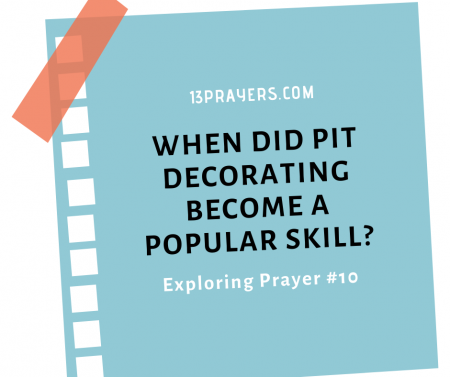 The prayer:
That you get out of any pit before you have time to decorate it
Why it matters:
A. Recognizing Pit Life Limits:
The first step toward getting out of a pit is recognizing that you're in one. First of all, I want to explain my thinking that pits and cabins (from prayer 9's post here) are different. To me a cabin comes from a (perhaps) unconscious decision to camp out LONG TERM in times of difficulty without asking/expecting God to intervene. It's more of an emotional thing.
A Pit, on the other hand, has more to do with out situations, actions, and choices. Those may be forced on us, or we may have made either subtle and gradual decisions that led to trouble, or we jumped into the deep end, knowing it was a problem.
It doesn't matter how you got there. God wants you out. You can't do His work from inside one. "I consider that our present sufferings are not worth comparing with the glory that will be revealed in us." Rom. 8:18
B. Ending Pit Life:
Psalm 40:1-3 is so full of goodness that it is the basis for the book I mentioned above. Let's unwrap a bit today.
"I waited patiently for the LORD; He turned to me and heard my cry. He lifted me out of the slimy pit, out of the mud and mire; He set my feet on a rock and gave me a firm place to stand. He put a new song in my mouth, a hymn of praise to our God. Many will see and fear and put their trust in the LORD."
David wrote this song from a very low place. He cried out to God, and God heard him. The "turned to me" part bothered me until I realized that you have to turn toward someone when you're walking alongside them…
Verse 2 tells us God rescued David from his slimy mess and set his feet on a rock. Personally, I'd prefer rock-walking to slime-slogging 8 days a week! God gave him firm footing, changed his tune, and turned it all into a witness for His glory.
Pit life sucks.
The one positive is that your prayers from the pit have nowhere to go but up. My concern is that you might start decorating it to make it comfy-cozy – as if you want to stay there! Say it isn't so! Dump the suffering and grab for the glory to be revealed IN YOU.
C. There is no pit elevator.
God is the only exit strategy. Call on Jesus. He will lift you out of your circumstances and set your feet on firm ground – no more slime walking.
Abba Father, we call on You from our pits and from the firm places where You set us. We know You hear our cries. Help our change in location be a true witness for You!





by