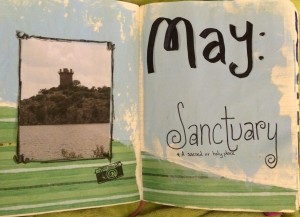 For the May theme of "Sanctuary," I'm using photos of one of my favorite places, Jed Johnson Lake in the Wichita Mountain Wildlife Refuge here in SW Oklahoma.
This week's lesson referred to 1 Tim. 4:7-8,
"train ourselves to be godly…physical training is of some value, but godliness has value for all things, holding promise for both the present life and the life to come."
Spiritual training is needed for spiritual growth, just as physical training is needed for physical growth. Just as an athlete wants to become stronger physically, I want to become stronger spiritually. And HKC's Take Me Deeper Bible study is helping me with my spiritual growth. I am in the Word more consistently this year than ever before. I find myself thinking about the scriptures I've been studying more, meditating on the passages, and finding ways to put them into practice. And I think the art has a great deal to do with it.
I have made the conscious decision this year to Pursue God. To make Him my Enough. To focus on my Spiritual
Growth. And to grow, there are things I must practice:
I need to read and study scripture…TMD is helping with this.
I need to spend time with God in prayer…I've been using prayer tags for this.
I need to memorize and meditate on scripture…I'm working on a way to make this easier for me…stay tuned.
I need to actively pursue being a faithful contributor in the Body of Christ to help further God's mission in the world…I've taught some Art 'N Jesus classes locally, and my Good Grief course is now available here.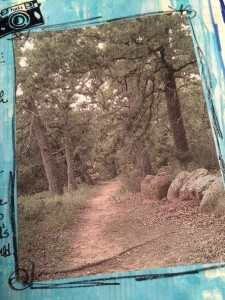 I feel like I am on the right path for Spiritual Growth. And that brings me to the art today: To get to the tower at Jed Johnson Lake, you have to find and STAY ON THE RIGHT PATH. The path is nowhere near the easy view of the tower. Just finding the path is a path all its own. BUT IT IS EASILY MARKED WITH SIGNS IF YOU WILL JUST FOLLOW. Once you find the right parking lot, the path is easy to find, and easy to follow. It involves a slight incline and walking through a stream – not a problem the past few years, but we've had 9 inches of rain THIS WEEK. So, wear the right shoes, and you'll be fine.
But, watch out for critters. As I said last week, there are free-range bison, longhorn, elk and deer – and they like this trail. So do the rattlesnakes. But you'll be fine, if you STAY ON THE PATH.
And it's the same with Spiritual Growth: locate the right path (some people spend years searching for something to fill the God-shaped hole in their hearts), follow the path (some steps are rockier than others and sometimes you have to get your feet wet) and watch out for scary things that want to disrupt your trip (the enemy notices any progress you make and sends things to make you turn back or sidetrack you.)
Grow Your Relationship with God
The whole idea of Growing Your Relationship with God is so key to me, I have a FREE foldable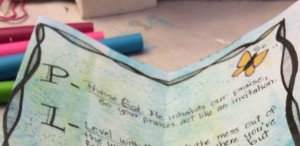 handout/bookmark with tips for this if you sign up for my monthly newsletter.
---
I used an old gift card to scrape acrylic paint onto my pages, used a lined background stamp and added the photo.  Photo outlined with Stabilo pencil. Camera stamp was part of the April kit from Christy Thomlinson's "Planner Society."





by