My Living Water is Jesus.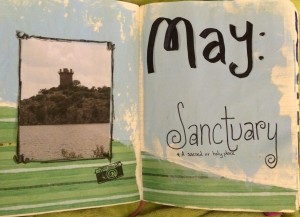 I've enjoyed the May theme of Sanctuary for Take Me Deeper. I think it's because Sanctuary is exactly what I needed.
The end of May marks the end of the school year. I'm an elementary counselor with 300+ five and 6-year-olds. So I'm ready for sanctuary.
This week's study spoke about Living Water. In John 7:38, Jesus says, "Whoever believes in me, as the Scripture has said, streams of living water will flow from within him."
Jesus is my source.
God is able to meet all our needs IF we will just look to Him and depend on Him. This ties in with my word for 2015: Enough. I must allow God to be the source. To fill me up. To be ENOUGH. And the payoff is PEACE.
On the short hike to the Jed Johnson Tower, you have to walk across, really you walk through – a small stream. Even in drought, there was a trickle of water. It fed into the lake that the tower stands guard over. You don't see the stream's beginning – and that's okay. where it began isn't important. What IS important is its faithfulness. It remains despite all odds.
It will be there. PERIOD.
And Jesus is the same. He is the source. He is faithful. HE remains despite all I do that messes things up.
Aren't we blessed?
<Sigh>
Once you get to the top of the climb and stand at the base of the tower, you find a tremendous view of the lake. And a boulder. It reminds me to keep on trudging along to reach my goal. The payoff will be time with The Rock. The Source. And the same One who fills the lake will FILL ME.
My other May TMD projects begin here. Thanks for joining me on this journey.





by