I envy David – somewhat.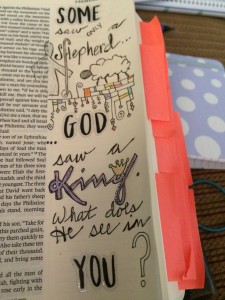 I want – more than anything – to have God stand up and say, "I chose Kathy, a woman after my own heart. She will do everything I want her to do."
I do keep in mind that David was NOT perfect. He messed up. But he tried to do God's will, and God recognized that.
I've been searching out what "doing everything God wants" would look like in my life – at this stage of my life. I'm "that age." When you reach the ripe old age of "umpty," you start wondering if you've missed out on anything. Well, this year, I'll turn "umpty-six," and the past 12 months have been a grand adventure.
As I approach my first blog-iversary, I think I'm finally beginning to see my path clearly. I've tried to be obedient in everything God has asked: I led some Faith art classes, I published my first novel and I started some other projects. But I was feeling overwhelmed and disjointed. I pulled back. I prayed, and I focused on my heart's first/main passion: writing. And a new form of worship: Bible journaling.
During this time of self-evaluation, I've been studying the early story of David in 1 Samuel 16-17. David was the unexpected choice for king, but God knew all along. Everyone else saw the shepherd boy; God saw a king. So what does God see when He looks at me?
No. I don't think I'm headed for royalty. I'm fairly certain that being the Empress of Planning is about the only royal title in my future.
My point is that God's outlook is beyond our linear time view. He sees the big picture while we can only see past and present. He's grooming each of us. What happens today helps prepare us.
I just want to say "Yes" every time God asks me to step out.
Facing Giants
Before David got the crown, he faced some opposition from many sides. But there was one day where he stepped up for God. Goliath was trash-talking God in front of God's own army and king. And no one was doing anything to stop him. Until this young shepherd came along.
King Saul tried to equip the boy with the armor of a king, but it didn't fit – yet.
Goliath threatened to feed David to the local critters. Then David spoke up, "You come to me with a sword and a spear and a javelin, but I come to you in the name of the Lord." He picked up stones, used the same slingshot that he'd used to defend his flock — and nailed the giant between the eyes.
What do I get from that?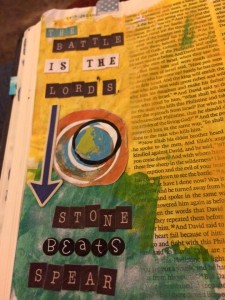 There will come a time when we have to take a stand for God. With the state of the world these days, it could come at any time and for any reason. We shouldn't be like God's army, quaking in their armor in silence while the bully insulted God. But when we take a stand for God, we need to remember what else David said: "The battle is the Lord's."
So we should follow David's lead –
The battle is the Lord's. Claim it. Believe it.
Gather what you have. David had rocks and a sling. I have words, art and this blog.
Trust God to use your skill. David had honed his skill for years, protecting his flock. Writing is where I've been working for many, many years.
Let loose, and let God. Do your part, and let God take over for the grand finale.
With God in control, the unexpected WILL happen. For David: stone beats spear.
I will continue to seek God's leading. I will keep listening. I'll be ready to take a stand. With what I have.
What will you do?
Maybe you will be up for a Journaling Bible giveaway to celebrate my blog-iversary. Check back next Tuesday for info on how to enter.





by