I'm learning so much with our January study on Transformation at His Kingdom Come! If you haven't stopped by to see, please do so here.
Our 2nd week's study is on being Vulnerable.
"To keep me from becoming conceited because of these surpassingly great revelations, there was given me a thorn in my flesh, a messenger from Satan, to torment me. Three times I pleaded with the Lord to take it away from me. But he said to me, "My grace is sufficient for you, for my power is made perfect in weakness." Therefore I will boast all the more gladly about my weaknesses, so that Christ's power may rest on me. That is why, for Christ's sake, I delight in weaknesses, in insults, in hardships, in persecutions, in difficulties. For when I am weak, then I am strong." 2 Corinthians 12:7-10
For me, the key question from the study was:
"

Like Paul, will spiritual growth – growing deeper in our relationship with Christ – be enough of a prize for you to risk being vulnerable, so that in your weakness, Christ's power may rest on you?"
Will I risk being vulnerable – risk being able to be hurt – to grow deeper?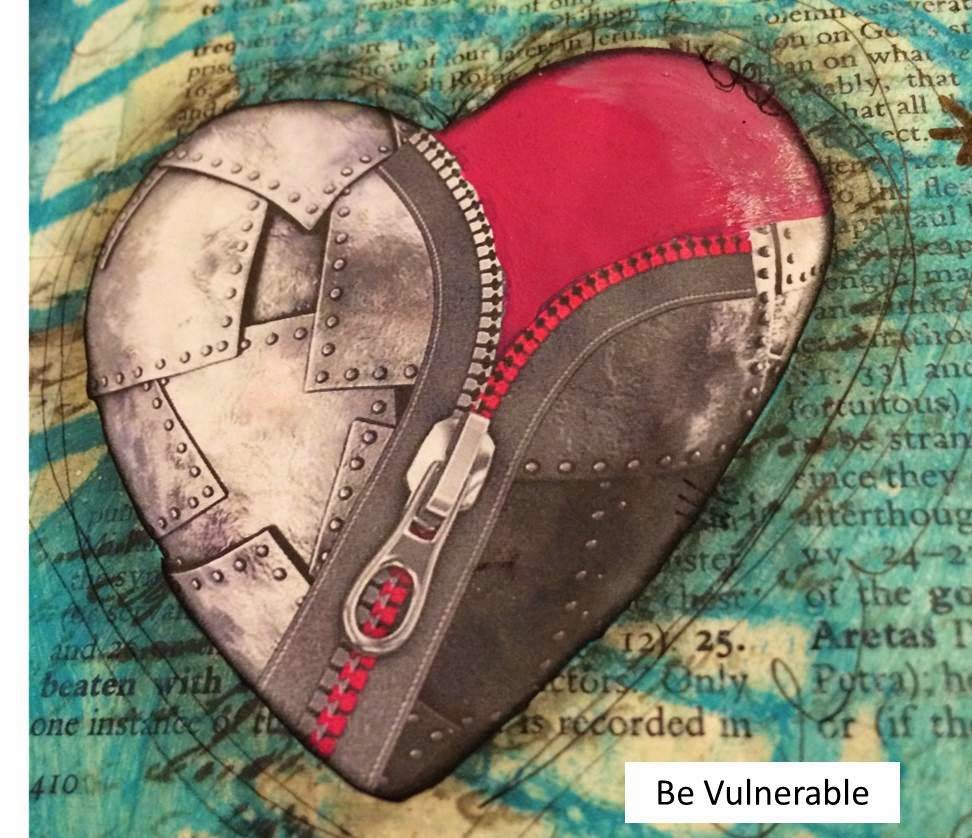 This became my focus for my journal page. I used Google to find a heart that looked like it had been armor-plated. The original image was entirely covered with "metal."
Then I searched for a zipper image and layered the two. I added paint over the "exposed" portion to indicate vulnerability.

I added the heart to a background of book paper and one of my favorite stencils. These are Apple Barrel acrylic paints – my new favorite trio: Kiwi, Key West & Tropic Orange.
I put "My grace is enough" in the top right corner. God gave me this verse late last year as my focus verse – before I got involved with HKC and TMD. I love how God works.
I want access to His power.
Daily.
Therefore, I must open myself up.
But here's the lesson: If I will open my heart, God has a more tender surface on which to write.
Bam!
Prayer: Dear Father, Open my heart to you. Give me a fearless openness so that You can mold me and use me for Your kingdom.






by