R is for Reliance is the latest post in my 2019 series on Prayer A to Z. You can find the other posts here.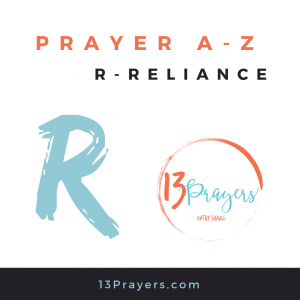 Reliance on God in Anxious Times:
Anxiety is epidemic in society today, mostly because we have an obsession on our problems instead of having a reliance on God to solve them.
1. He gives us shelter.
In 1 Peter 5: 6-7, we are told to humble ourselves "under the mighty hand of God." Take a moment to think about that. Instead of standing tall in the pride of our own abilities, we hunker down under the same hand that created the heavens and the earth. Then the verses tell us to be "casting all (y)our anxiety upon Him, because He cares for (you)us."
Did you catch the reason to give Him your concerns? It's not because He's obligated to help. It's because He genuinely has compassion for us. Our reliance should be based on our love for Him as well.
2. He gives us peace.
A second reason for reliance on God is that He is the source of a special kind of peace. (John 14:27) "Peace I leave with you: my peace I give to you; not as the world give, do I give to you. Let not your heart be troubled, neither let it be afraid."
Note that this is not a peace available in a worldly sense, but only available through reliance on Him. When God is our focus, our heart is too full to be troubled. It's like looking through a fence. You can focus on the fence or on the view. (Read Stop Lookin' at the Fence here.)
3. He gives us power and more.
When we become a child of God, we get His Holy Spirit living within us, and He's not a wimp. In fact, 2 Timothy 1:7 says, "For God has not given us a spirit of timidity, but of power and love and discipline."
a. – POWER – I can do all things through Christ who gives me strength. Phil 4:13
b. – LOVE – There is no fear in love, but perfect love casts out fear. 1 John 4:18
c. – DISCIPLINE – And have you completely forgotten this word of encouragement that addresses you as a father addresses his son? It says, "My son, do not make light of the Lord's discipline, and do not lose heart when he rebukes you, because the Lord disciplines the one he loves, and he chastens everyone he accepts as his son." Hebrews 12:5-6

What does reliance on God look like in 2019?
Praying more than worrying.
More time with God.
Less time on social media.
Talking to God FIRST when issues arise.
Texting friends AFTER you've had time with God.
Abba, Precious Father God, we know Your heart's desire is our total reliance on You. Draw us closer to You on the easy days so we can see you clearly on the harder days. Let us grow more comfortable in Your lap and in Your arms so we long to be with You more and more each day.
Thanks for stopping by today. Other Prayer A to Z posts are located here.  





by