For Advent HKC is doing a daily study that features various writers. Each writer focuses on a different Christmas song – some traditional/some not. Today I look at "O Come All Ye Faithful." (A slight departure from Bible Journaling, but faithart still.)
I'm a Christmas song addict. I would listen 24/7/365 if I could do it without annoying everyone around me. Today's song is a favorite, partly because it involves the shepherds (AKA "the sheep guys" to my daughter when she was young), but I never sat down to analyze it until I prepared for today's study.
"O Come All Ye Faithful" is an invitation:
In Luke 2:4-18, we see the lyrics played out:
–Joseph and Mary go to Bethlehem
–the baby is born, wrapped in cloths and put in a manger
–angels appear to shepherds and invite them to worship the child
O come all ye faithful joyful and triumphant
Oh come ye O come ye to Bethlehem;
Come and behold him born the King of angels;
O come let us adore him Christ the Lord.
Sing choirs of angels sing in exultation
Sing all ye citizens of heaven above;
Glory to God in the highest:
O come, let us adore him, Christ the Lord.
Yes, we are invited. Invited to come. To behold the child. And to adore Him. But dig a bit deeper, and there are some amazing treasures within the lyrics and the corresponding scriptures:
1. God always has a plan. BE ALERT to His invitation.
I love how the lyrics demonstrate that God knew Christ's purpose from the very beginning. (God always has the end in mind.)
–This child is the King of Angels
–He is born to be Christ the Lord
Just imagine for a moment:
You are a shepherd. A faithful servant of God, but a second-class citizen to most people in your society. You are out doing your thing, and suddenly the Heavens open up with an angelic choir announcing the birth of the Christ child – the very deliverer your faith has been waiting to see for hundreds of years. This is not how your evening usually goes. You had planned to hang out with the sheep all night, and now the sky is crowded with all the citizens of Heaven. Sit up and take notice. Don't miss out on God's plan because it came to you in a way or a time that you didn't expect. Be alert.
2. God's invitation may not make sense to our human understanding. BE AVAILABLE ANYWAY.
This was a multitude of angels singing an invitation to the lowly sheep guys in the dead of night. Not an engraved invitation to the heads of state. Why? God wanted us to know – even now, generations later – that everyone is welcome to come and adore the Christ. Everyone.
Everyone is invited, but who will go? The shepherds left their flocks without hesitation. I mean, they had just gotten a personal invitation from angels. Of course, they're going. But it's problematic for your typical sheep guy. If he leaves, his flock will wander. (Sheep do that.) The flock will disperse without a leader. It may even come to harm.
Look closer still. The invitation itself is counterintuitive:
–Leave everything that the world sees as important
–Leave it all so that you can adore the Christ
But isn't this the same invitation Christ Himself offered as He began His ministry?
Isn't this the same choice He offers us today? Are we really Available to His call?
See how the shepherds summoned to his cradle,
Leaving their flocks, draw nigh with lowly fear;
We too will thither hend our joyful footsteps;
O come, let us adore him, Christ the Lord.
Yea, Lord, we greet thee, born this happy morning;
Jesus, to thee be glory given;
Word of the Father, now in flesh appearing:
O come, let us adore him, Christ the Lord.
3. God's invitation is for all to come and worship. BE ADORE-ABLE.
My biggest lightbulb moment in this study was this: God began Christ's journey with His end in mind.
Let me explain:
I grew up in church. I saw all the posters of Joseph and Mary in a wooden barn seated before a wooden "v" shaped manger where Jesus lay in hay, wrapped in blankets. I saw this acted out in Christmas pageants every year. There's only one problem: This is not historically accurate.
More than likely, the stable was a cave-like area below the Inn or out back. It was a damp and musty hole in the ground. And the manger was probably just a dip carved into a rock. Wood is scarce, so it would not be wasted on the livestock. This little family was in a damp, dark cave with their newborn son – the King of Angels – wrapped in cloths and placed gently to rest on a makeshift rock shelf.
And that's when it hit me. Years later, Jesus Christ will be removed from the cross. He will be wrapped in cloths once again. He will be taken to another cave-like hole, a tomb this time. There he will be placed gently to rest on another makeshift rock shelf.
When I see this parallel, my heart is broken. In Mary's ultimate moment of amazement and joy, she has no idea that this scene will replay years later under far different circumstances. This child's first night in living, breathing human form and his last will bookend a human lifetime with a clear call for us to worship: I MUST ADORE HIM.
And there it is: My brokenness is what God was looking for all along. It is my humility that makes me ABLE to ADORE Him in the way He deserves. True worship, true adoration starts when we COME to the place where we see our insignificance in the light of His power.
O Come, Let Us Adore Him!
My art:
I focused on the repeated lyric: O Come Let Us Adore Him.
I added a drawn "ribbon" around the letters as a reminder of the cloths wound around Jesus at His birth and death.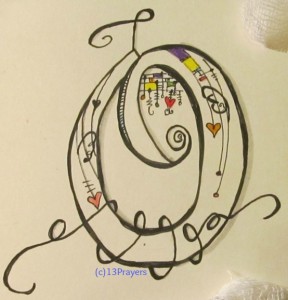 I put outlines of Bethlehem's skyline on the left and the cross on the right. I used 3D Foam Squares to add dimension. Then I put a cloth through it all – to symbolize the common "thread" within Christ's birth and death.
The lettering was done with black micron pens in sizes ranging from .005 to 08. I used both Distress and Tombow markers for the lettering's colored accents.
The city and cross were painted with acrylics. I added stars with a broad white Signo Uniball pen. Stickles added the shine to the largest Bethlehem star. The fabric is gauze.
If you are looking for a Bible study for 2016, His Kingdom Come will continue their "Take Me Deeper" with a few changes. Check them out. There is no cost to join HKC or to participate in Take Me Deeper.





by