Father, Son & Holy Spirit: The Holy Trinity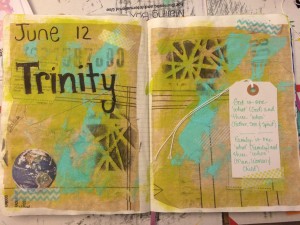 The Holy Trinity must be taken on faith. I loved how our Take Me Deeper study this week (June 12) put it:
God is one 'what' (God) and three 'whos' (Father, Son & Spirit – AKA the Holy Trinity). Family is one 'what' (Family) and three 'whos' (Man, Woman & Child).
I love this comparison!
Can I explain how 1 being can be 3 distinct entities?
Nope, and it's not even something I spend time trying to ponder. The concept of the Holy Trinity is something I must take in faith and move on. To me, it's like a triangle: 3 different sides are needed to comprise the whole. Each is independent and of different size/purpose, but all 3 are required for it to be complete. So, I use triangles a lot in my faith art.
Is the mystery of the Holy Trinity something to fret over?
It worries me only in that I know some people who allow this one "un-understandable" thing to keep them from coming to God. To me, it's a starting point for faith. If I cannot trust God in His explanation of Who He Is, then how can I trust Him in anything else in scripture?
Maybe it's like any other relationship: you have to spend time hanging out with them, talking to them and absorbing how they act/react in different situations. Then their own description of who they are either matches what you've seen, or it doesn't.
How much time are you spending with The Holy Trinity?
---
I kept the background in the style of the monthly theme. I added the Earth again because the Trinity was present at Creation. Genesis 1:1 says, "In the beginning, GOD created the heavens and the Earth." The original language GOD is "Elohim" which is plural – meaning at least 3 are present. I used the sewing patterns from Mom, gauze, paint, washi tape and a tag. The triangles are pan pastel through a stencil.
Holy Trinity. Three in one. Beyond my comprehension, but a mystery I can't exist without. What does the Holy Trinity mean to you?





by