Why use a prayer journal?
I use a prayer journal so I can be more accountable in my prayer time. In the writing world, someone who just sits down to write without a plan is called a PANTSER, as in – they write by the "seat of their pants." In contrast, a writer who uses an outline in crafting their work is called a PLOTTER.
I decided I'd rather be a PLOTTER Pray-er, than a PANTSER. And after collecting an ever-increasing list of things/people to pray about, my prayer time kept getting longer and longer as I kept adding tags to my prayer rings (read about my prayer tags here.). I decided I would be better off to organize my praying time and divide up things into the following categories:
Pray for once a month
Pray for once a week
Pray for daily
I played around with the prayer tags for a few days, trying to make them fit into monthly, weekly or daily groupings, but I failed miserably. So I decided to move on to a prayer journal.
I used what I had on hand – a Leuchtturn 1917 dotted notebook. I like that the pages are already numbered and it has an index in the front.
I used the first few pages for monthly prompts, dividing the pages into fourths with washi tape.
Then I created a "Weekly" page with spaces for each day of the week.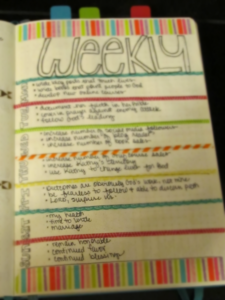 Finally, I created a "Daily" page with prompts that I go through every day. I reserved this spot for prayers for Hubby, Son, Daughter (and Niece) and Mom and Mother-in-Law.
On the following pages, I journal my prayers or Bible verses from my Bible study. I write out requests. I record when Father God answers. When I get new prayer requests, they get added to the corresponding day.
This is working well for me for now. If you'd like to see a list of what I included in the Month/Week/Daily sections, I've created a pdf for you here. Of course, you should absolutely change whatever you need to make it work for you. The key is for you to spend time in prayer on a regular basis!
Thanks for coming by today. You are on my prayer list – DAILY!





by