What Who is the source of all comfort?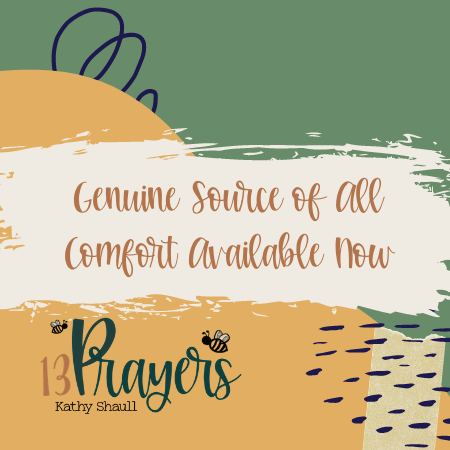 Gutted
There are few times in my life when I just felt absolutely distraught and in need of great comfort:
When the technician couldn't find a heartbeat in my first pregnancy after I'd been told for years that I'd never have children.
Sitting alone in the OR waiting area after my mother broke her leg at my sister-in-law's funeral and the surgeon called to tell me she didn't know if she could repair the leg.
Planning my father's funeral while Mom was still in rehab from the fall.
Each time I was just numb. Too scared to cry as I might never be able to stop. And each time relying on God to help me. I'm certain I don't know how people get through things like that without Him.
God of All Comfort
El Nehkumah [EL neh-ku-MAH] is the God of all comfort as in 2 Cor. 1:3, "Blessed be the God and Father of our Lord Jesus Christ, the Father of Mercies and God of all comfort." All throughout Scripture, we find reference to God's incredible comfort:
Father God – Ps 23:4, "Yea, though I walk through the valley of the shadow of death, I will fear no evil; for You are with me; Your rod and Your staff, they comfort me."
Jesus – Matt 9:22, "But Jesus turned around, and when He saw her, He said, "Be of good cheer, daughter; your faith has made you well." And the woman was made well from that hour."
Holy Spirit – Acts 9:31, "Then the churches throughout all Judaea, Galilee and Samaria had peace and were edified. And walking in the fear of the Lord, and in the comfort of the Holy Spirit, they were multiplied."
Scripture – Rom 15:4, "For whatever things were written before were written for our learning, that we through the patience and comfort of the Scriptures might have hope." AND Ps 119:50, "This is my comfort in my affliction, for Your Word has given me life."
All Comfort for All Times
The thing is, though, most of the time, I'm not in need of such profound help. What then? What are we to do with this precious assistance when our lives are already… comfortable?
Share it.
Second Thess 2:16-17 is a great example of sharing comfort. Pray it over others. "Now may our Lord Jesus Christ Himself, and our God and Father, Who has loved us and given us everlasting consolation and good hope by grace, comfort your hearts and establish you in every good word and work."
Share Scripture with someone who is in need. "Therefore comfort one another with these words." (1 Thess 4:18) El Nahkumah is too valuable a resource to keep to yourself. Share Him with someone today!
Adore – We praise You, El Nahkumah, for Your promise of divine comfort, Your Son, Your Comforter, and Your Word.
Admit – Father, I admit that there are times when I do not reach out to You as my first source of help.
Ask – I ask that You open our eyes for opportunities to be a helper to others and to share Your love with them.
Acknowledge – I thank You, O God of All Comfort, for Your help in my times of need. I can always find shelter beneath Your wings.
Thanks for spending time with me during your busy day. Drop me a note here or on social media so together we can praise how the God of All Comfort has helped you during a difficult time.





by