We may have to return to chariots if gas prices get any higher…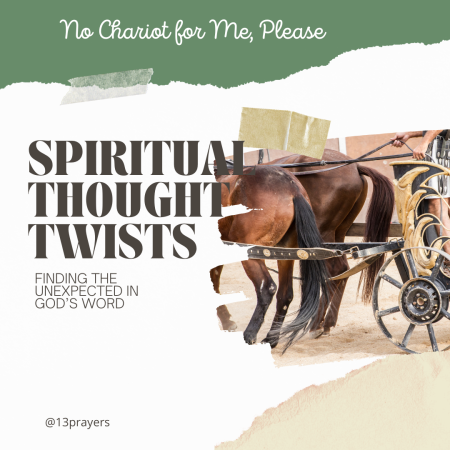 I don't want chariots; I want lower gas prices. When I filled up the other day, gas was over $4.00 a gallon. In fact, one station we passed on the way to 1 of my 3 heart appointments last week (Read about that here) had raised the price 20 cents by the time we headed back home!
Power
The idea of chariots comes from our verse today: Psalm 20:7, "Some trust in chariots and some in horses…" Horses and chariots were signs of wealth and power in Old Testament times, reserved for leaders of armies and royals while the average man on the street walked everywhere. And some people of that day would put their trust in those with the horses and chariots – despite God outsmarting them in the Red Sea in Exodus 14:22-28.
BUT we remember
Ps. 20:7 ends with, "BUT we remember the name of the LORD our God." You see, I've been praising God for so much lately:
Lung nodule vanished!
Apparent past heart attack left NO damage!
I have no blockages that would/could have caused a heart attack!
So, yes. I'm setting this post to go live on a random Thursday – the day I'm scheduled for my thyroid surgery. I'm going off my planned schedule to allow myself time for healing and recovery without the pressure of needing to post again until July 5th. Hope to see you then! I just want you to remember the Name of the LORD our God! If you need a list of His names, look here.
R Adore – I am so proud to say I serve the God who still does healing miracles! He is Healer!
Admit – I hate to admit that I've been known to put my faith in men. Today, I'm claiming peace in that my surgeon that someone else assigned to me has now been described as the best in Oklahoma. Thyroid surgery is all he does. My faith is in God who led me to this man and into his skilled care.
Ask – I ask for healing and a swift recovery – a continuation of health miracles!
Acknowledge – Thank you, Father God, for Your tender care, for seeing me in my time of need, and blessing me with more miracles!
THANKS FOR STOPPING BY TODAY. DROP ME A LINE BELOW OR ON INSTAGRAM AND TELL ME A TIME YOU HAD TO PUT YOUR TRUST FULLY IN GOD.





by