I've been Miracled! (Even while my trust was low!!! I should have gone deep!)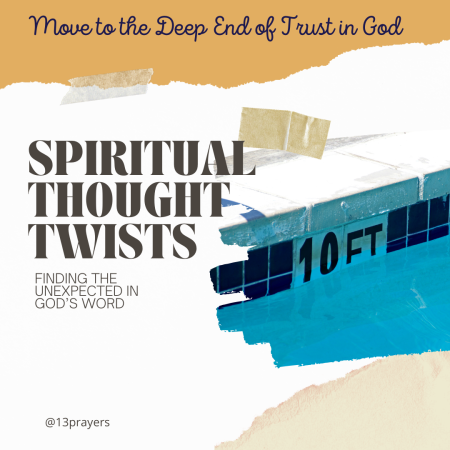 My trust level was so low, but God is faithful! I'm going deep.
Update
If you read my last post (here) about my health chaos, you should know I was miracled! The large nodule seen on my recent chest x-ray vanished before I had the CT scan.
No Trust
But, I must sadly admit, my trust that I could be healed wasn't anywhere near the deep end. All the questions I prepared for the pulmonologist focused on next steps and avoiding having to move my thyroid surgery date. And I was so anxious, my pulse was 130 when they took my vitals! So when the doc said "There's nothing there" it didn't really register.
I was blown away. God chose to heal my lung – despite my lack of trust – my missing faith.
Next steps
As this post goes live, I'm preparing for more tests. This time on my heart. Today, June 7, 2022, is stress test day, and I want to focus on Joshua 14:8 – "The other spies said things that made our people afraid, BUT I completely trusted the LORD God."
As God's people had prepared to enter the Promised Land after their long wilderness trek, they sent in spies to check things out. This verse describes their report.
2 Versions of Trust
12 Spies went in. 10 saw fear and gloom and had NO trust in the God who parted the Red Sea for them. Everything they said only ramped up fear in those who listened. Their trust in God was SHALLOW. And in Numb 13:32, their words are called LIES!
But 2 spies – Joshua and Caleb – called it a land of flowing milk and honey. It took 2 grown men to carry a single bunch of grapes! They didn't lie, but they did mention the strong people and the fortified cities they lived in.
But Joshua and Caleb were confident they could overcome. Their trust in God went DEEP.
Move to the deep end
I must move to the deep end of trust in God. He saw me through the lung issue with a miracle., and He could also see fit to do it again with my heart. BUT even if He doesn't, I'm making the deliberate choice to see this as His way to raise my awareness of my heart health. If I've supposedly had a previously unknown heart attack, then it is my God-given chance to fix the problem before things get worse.
The bottom line is: God will see me through this week of testing and give wisdom to the cardiologist to provide the best intervention. And if that means I have to reschedule my thyroid surgery, that's in God's hands.
I trust in Him.
Adore – I lift my hands to praise the God who gave me a miracle that the doctor could not explain. I know the source is YOU.
Admit – When people start telling me their horror stories relating to my upcoming tests, my mind races back to the shallow end. It takes a lot to calm me back down at times. How fickle I am!
Ask – Calm my mind and my body as we do this week of testing. Give all the health professionals the wisdom and knowledge to formulate the best plan.
Acknowledge – Thank you for choosing me for a miracle! I cannot express my joy and relief.
THANKS FOR STOPPING BY TODAY. DROP ME A LINE BELOW OR ON INSTAGRAM AND SHARE A TIME WHEN GOD MIRACLED YOU, TOO!





by