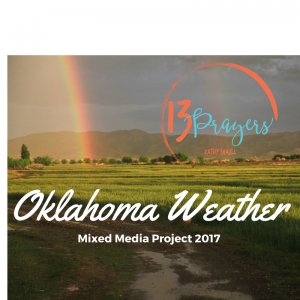 Weather Project, Update:
The last time I updated you on my year-long weather tracking art project was the end of February. You can read about that here in Part 1. Now we are winding down May.
A bit of honest, weather-related confession here:
-I'd hoped to work on this project a bit every week or two.
-Life got in the way.
-Keeping a record of the day's high temperature is easy.
-Making time to glue on the corresponding inchy is harder.
So, I'm finishing up my school year this week, and I'm playing catch up with my weather chart.
So, there's a part of me that wonders why I started this project. I'm supposed to be getting my sequel ready for publication this fall. And I wanted to work on a children's book as well. But both of those things require skill and attention. This project is just a quick and almost mindless escape into art-fulness. I guess that makes it worthwhile. Instead of sitting mindlessly in front of the TV, I can make some inchies.
So, here's a photo of the work in progress. This takes us almost to the end of May.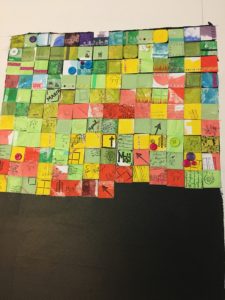 I'm thinking the white border will need a color/temperature key and labels for the months… There might also be room for a few small pictures of sample weather…
Oh, and I'm also painting a tree mural at school… I'll let you know how that goes.
I have to learn to say "No."
Do any of you have that problem? You like the "idea" of this project and then you get distracted by something new and shiny. Then you want to do that new thing, too. And then another. And another.
Like a weekly art journal prompt I found online. Or the Index Card A Day Challenge (ICAD).
Ringing Bells:
The sequel to Choosing Justice is in the revision/editing phase. I finished the rough draft with the following enormous numbers:
Almost 330 pages
Over 103,500 words. Yikes!
I'm almost to the halfway point in my "tighten, tighten, tighten & cut the fat" read through. I've cut down to :
Just over 300 pages
About 94,800 words – Soooo much better.
Stay tuned. Bells should be out this fall.





by