I have a new art project that follows the crazy Oklahoma weather.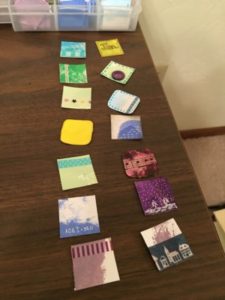 Early on, in 2017, I saw a Facebook post where someone was making an afghan with one row per day. They were going to use different colors for 10-degree temperature ranges. A weather art project sounded like a great challenge.
Every Okie knows the truth behind Will Rogers' quote, "If you don't like the Oklahoma weather, just wait a minute."
Well, I haven't picked up yarn to crochet in about a million years, so I wondered how this project would look from a mixed media point of view. And here's the project thus far:
Every day will be represented by a 1 inch square AKA "inchy" that will show the high temperature for MY LOCATION that day.
Washi tape and sketches will be added to help represent the weather of the day – snow, rain, grass fires, thunderstorms, etc.
I chose…maybe–21 different colors…to correlate with temps ranging from Below Zero to 110 degrees.
I spent a weekend with a brayer, smearing paint on paper and then slicing it into my 1 inch squares. I sorted them out into a box. Then I lined things up on a very large canvas – 2 weeks across.
Here's January and February.
Let me point out a couple of interesting things:
Greens represent temps ranging from 55-74 degrees, so it's been a very warm year so far.
Yellow means the day was warmer.
Red was warmer still.
Look directly above the last 3 inchies. Sunday was red and windy (95 degrees), Rainy 68 degrees for Monday, and 34 with snow by Tuesday.
Yep. That's Oklahoma, folks.
I'd hoped to be finished with March's days by now, but I spent the weekend battling computer issues instead. I'll be glad to keep you posted. It will certainly make a conversation piece when finished.
Thanks for coming by the blog today. I'm praying for you to remain safe – regardless of your local weather.





by