Welcome to Riata, New Mexico!
Travel is the perfect way to get a feel for your location and build your backstory.
Riata is my fictional location in New Mexico. It is the city closest to the Maxwell Ranch in SE New Mexico.
Several years ago, a friend and I took a research trip to the area to get a sense of things: the summer heat, the Independence Day celebrations, the people and – of course – architecture.
I needed a ranch compound for Justice to grow up in. I needed a large house that commanded respect from a distance and reflected the adobe style.  A place fit for a cattle and oil baron and his family. Wealth without being overly pretentious. This place really fit the bill. Found it just by driving around. Lucky me!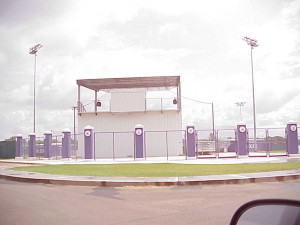 Then I went looking for a place where Justice would play baseball. Less than 5 miles away, just on the outer edge of town, I found it.
And, of course, the ranch's Tres Mesas (Three Tables plateaus) had significance in the backstory.
I don't get to take vacations often, but when I do, my brain is working overtime to find a way to use something I've seen in my next story. In fact, this summer's trip to South Carolina produced a list of amazing road and location names that I could NEVER have created on my own. Maybe I'll have a chance to share some of those with you soon.
Would you use travel photos to help you create backstory for your story? What's the best location you ever found while in travel mode?





by