Let's talk about tables today…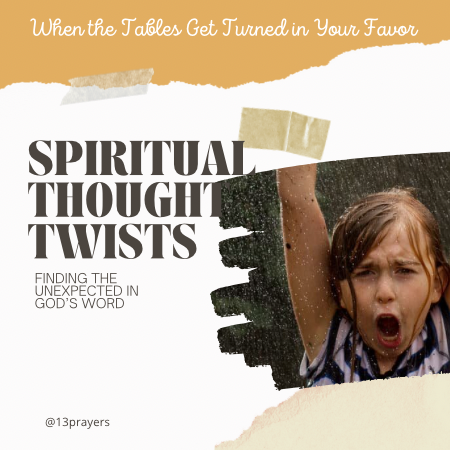 Betrayal
I'm guessing most of us have felt the sting of betrayal. Someone we had trusted turns on us. And we want the tables turned on them.
Am I encouraging you to act out in revenge? Of course not! We happen to serve the God who see all, knows all, and who can turn tables on those who have hurt us. And He can do this in ways we could never imagine.
Family Tables
Joseph had 10 older brothers who sat at his dinner tables and shared meals with him. But instead of looking out for their little brother, they allowed their jealousy to chew at them until bitterness overpowered their judgement. They sold Joseph into slavery and reported him as dead.
Tables Turned
Joseph began life in Egypt as a slave and even spent time in prison under false charges. Then he was lifted to a position of power – second only to the Pharaoh! When he saw his brothers again, they didn't recognize him. And eventually he told them: (Gen 50:20) "You meant to hurt me, BUT God turned your evil into good to save the lives of many people, which is being done."
Setbacks or Set ups?
At an early age, Joseph's vision had his brothers bowing before him. When they sold him as a slave, he had no logical reason to expect that to ever come true. BUT God doesn't limit His work to the logical.
Slavery had to feel like a setback,  BUT God used Joseph's situation to set him up to rescue thousands during a time of great famine.
Much of the difference lies in our perspective and attitude. We must remember that God is in control. You may feel like God has forgotten you. Rest assured, He has not.
Seeds
Christine Caine put it this way:
"Sometimes when you are in a dark place you think you have been buried, but actually you've been planted."
When a seed is planted, what is its only job?
to grow
to push through
to break out
to let God pick the time to turn the tables for you
You see, God is preparing tables for us before our enemies. What matters is whose table you are sitting at, not your proximity to your enemy.
Adore – I praise the God who knows all and sees all. You alone see the path I'm truly on. You promise to never forget Your children.
Admit – There are times when I want to exact my revenge for wrongs I feel I've experienced. Remind me to pray for those people instead.
Ask – Help me to focus on the table You have for me and not on what my enemy is doing.
Acknowledge – Thank You for the overturned tables You've allowed me to see.
THANKS FOR STOPPING BY TODAY. DROP ME A LINE BELOW OR ON INSTAGRAM AND TELL ME ABOUT A TIME YOU FELT BURIED.





by