Possessing Gentleness doesn't mean you're a wimp.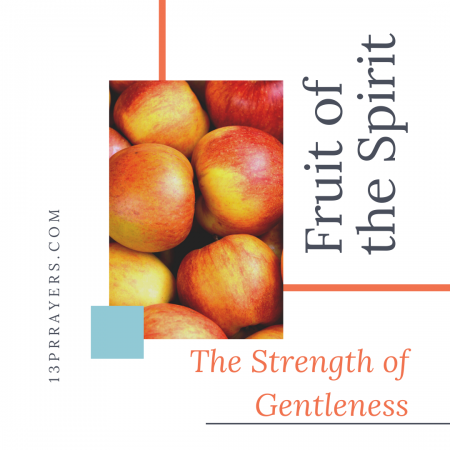 Gentle Giant
My Dad was a big man. Even as an adult, I couldn't put my hands around his forearm. His size and strength were intimidating. I remember him (as owner/operator of the local Dr Pepper Bottling Company)  coming up to my high school, tipping the vending machine onto his back and moving it. Alone. He told me later he did it mostly as a warning to the boys. I guess it worked because I've had more than one tell me they were too scared of him to ever ask me out. They saw only strength, but not his gentleness.
But in my mind and heart, my father was a gentle giant. Yes, he was authority. He was protector, but he was a snuggler, and often a man of good humor. His massive hands embodied a gentleness that I find hard to describe.
When I fell and broke my arm (age 4 or so) his tone was calm. His touch was cautious, but he drove like crazy to get me to the hospital.
The Gentleness of God
It's that gentleness that so many people miss when they picture God. They focus on His overwhelming power that creates universes or destroys with flood (Gen 5-9) or fire (Gen 18). And yes, that is one aspect of God.
But His gentleness is evident as well – even within those same stories. Before He sent the flood waters, God called two of every animal to safety. Then He shut them in. (Gen 7:16) And before God destroyed Sodom and Gomorrah, God first bargained with Lot to save the city. But when it was proved that the residents were too evil, angels both protected Lot by pulling him inside his home (Gen 19:10) and later grabbed his – and his family's – hands and led them to safety. (Gen 19:16)
The Gentleness of Jesus
For the moment, let's skip over the fact that Jesus' death on the cross is the epitome of gentleness. He could have called an angel army to pull Him from the cross! I picture those heavenly beings with their swords drawn, leaning forward, agonizing over the treatment Christ received. Just waiting for His order – that He never gave because of His profound love for you and me.
But the same Son of God who cleared the temple and overturned the tables chose gentleness as the path to repair our broken relationship with His Father. And is self-described as gentle in Matt. 11:28-29, "Come to Me, all of you who are weary and burdened, and I will give you rest. All of you, take up my yoke, and learn from Me, because I am gentle and humble in heart, and you will find rest for yourselves."
Gentle Friend
Peter was so often bold and rash. I'm sure he was indignant when Christ predicted he would deny even knowing his Master 3 times. (Matt. 26:34-35)
But notice that even then, knowing what Pete was about to do, Jesus included him as part of the trio to go with Him to pray. Well, Pete and the boys fell asleep. More than once. And Jesus' rebuke was mild, considering the stress He was under. But, the best part was the way He and Pete made up.
Gentleness in Resolution
When Christ returned from the grave, His rebuke of Peter's denials was tempered with gentleness. Three denials and three questions of his devotion. It had to be agonizing to the disciple, but it wasn't brutal or violent. Jesus got His point across with well-placed and well-timed words:
John 21:15-19, "When they had finished eating, Jesus said to Simon Peter, "Simon son of John, do you truly love me more than these?"
"Yes, Lord," he said, "you know that I love you."
Jesus said, "Feed my lambs."
Again Jesus said, "Simon son of John, do you truly love me?"
He answered, "Yes, Lord, you know that I love you."
Jesus said, "Take care of my sheep."
The third time he said to him, "Simon son of John, do you love me?"
Peter was hurt because Jesus asked him the third time, "Do you love me?" He said, "Lord, you know all things; you know that I love you."
Jesus said, "Feed my sheep."
Such a powerful lesson for me to study! And it's also seen in Col. 3:12-13, " Therefore, as God's chosen people, holy and dearly loved, clothe yourselves  heartfelt compassion, kindness, humility, gentleness and patience. Bear with each other and forgive whatever grievances you may have against one another. Forgive as the Lord forgave you." What a powerful standard to live up to!
Father God, help us to put on sincere compassion, kindness, humility, gentleness and patience daily. Help us deal with others and forgive those who have wronged us. Especially during these difficult and uncertain times. Lead us to be more like Christ. May our actions and attitudes be so extraordinary that others notice and are drawn to YOU.
Thank you for stopping by to talk about gentleness today. How can you demonstrate Gentleness this week in your daily life? Let me know below! And don't forget to check out my FREE online course Less Fear More Jesus here.





by