"I" or "E" – except after C…?? Can a letter make a difference?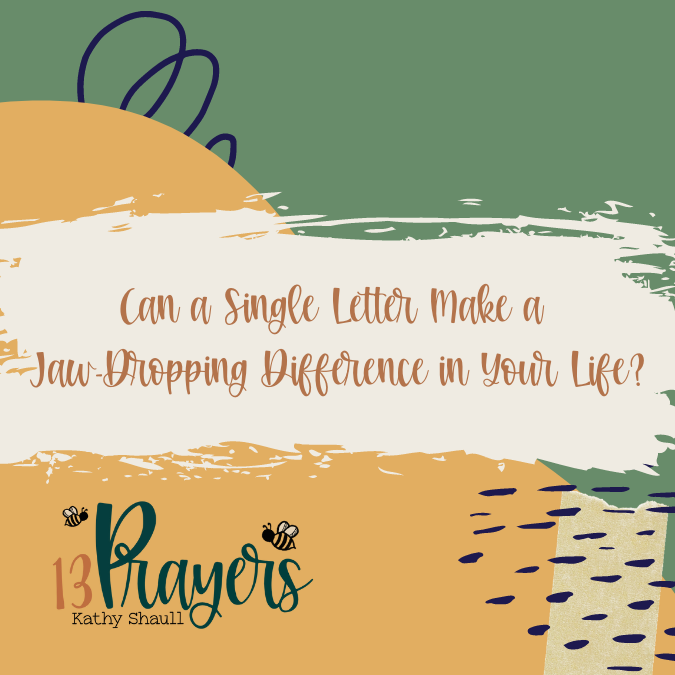 What do you focus on? Does a letter matter? Does a name?
I've never been a "glass half-full" kinda gal. Give me 2 compliments and 1 negative comment, and all I hear is the bad. So when I learned my name's meaning, I was crushed. So, okay, Kathy means "pure." I worked hard to live up to that. But then I saw my middle name could mean: something(1), something else(2), and BITTER. Nope, it didn't matter what definition 1 0r 2 said. All I saw was that my parents named me "PURE BITTER."
So when it came time to name our children, Hubby and I looked long and hard at the meanings behind names. I'm proud to include a Mighty Warrior and the promise My God is My Oath in my family.
A name matters. And all of Scripture was leading up to this one.
Immanuel/Emmanuel
Whether you spell it with I or E, Emmanuel means "God with Us."
The "I" comes from the Hebrew, and the "E" from the Greek.
God with Us – A prophecy
God made man.
Man messed up.
God needed a way to fix the relationship.
The plan required sacrifice – a man. But not just a man. God as man. God came among us. In Is. 7:14 we read, "Therefore the Lord Himself will give you a sign: Behold, the virgin shall conceive and bear a Son, and shall call His name Immanuel." Isaiah let people know the amazing specifics of His birth. This is a promise of things to come.
Change 1 letter: Prophecy fulfilled – Emmanuel
Matt. 1:23 tell us again what the prophecy is and how it had now come to pass. And, depending on the translation you read, you may get the letter I or the letter E. Matthew is quoting the verse from Isaiah, so it makes sense to use the original language/spelling/letter. Or you may want to differentiate between the promise and the actual – in the flesh – fulfillment of that promise. For me, that's a big, jaw-dropping difference from a single letter!
Think about it
I don't know that I necessarily have a favorite name of God, but if I do, it may be this one. The sheer weight of knowing that God sent His Son to earth to be God with Us is a lot to wrap my head around. It is a love story of the highest degree.
Beginnings
Before Christ became God with Us, He was with God. John tells us "In the beginning was the Word, and the Word was with God, and the Word was God. He was in the beginning with God. All things were made through Him, and without Him nothing was made that was made.
And the Word became flesh and dwelt among us, and we beheld His glory, and the glory as of the only begotten of the Father, full of grace and truth." (John 1:1-2, & 14)
The Word is Jesus. He was with Father God and then through Him Creation happened. And then He came to live as Emmanuel – God with Us, the promise fulfilled.
Adore – O Emmanuel, we praise You for Your courage to come down and live among such sinful people, knowing the brutal suffering You were born to endure.
Admit – I confess that I can get caught up in the hustle and bustle of the holidays and forget to DAILY celebrate Your birth.
Ask – I ask You to help me keep the true reason we should celebrate always at the front of my mind and on the tip of my tongue. Help me meet every "Happy Holidays" with a bold and loving "Merry CHRISTmas!"
Acknowledge – We thank You, Emmanuel, for enduring so much so that we can have access to Abba.
Thanks for stopping by today. Connect with me and let me know which letter you use to spell this name.
If you have enjoyed this study on the names of God, or if you are looking for a fun Advent project, check out my Scripture Writing Kit. We will write out 2-3 verses daily as we journal the 50 Names of Christ. Set to begin December 1st, this is a fun way to learn more about who Christ is. For more information, click here.





by