Shields up, Star Trek Fans!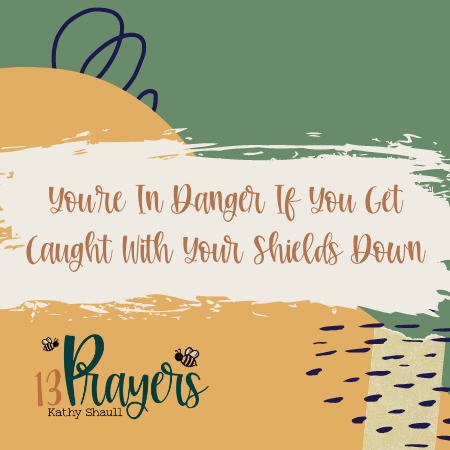 I am a huge Star Trek fan.
Well, not enough to attend a convention or own a uniform, but I know the difference between a Romulan and a Klingon. And you can always tell when things are about to get hairy onboard because the captain will shout, "Shields!"
Well, we should be shouting about OUR shield – because we should want the whole world to know what is available to them.
The LORD is My Shield
Jehovah Magen [yah-ho-VAH maw-GANE]  means The LORD is My Shield. (It can also be translated as tower, refuge or fortress.)
This is a name God calls Himself in Gen. 15:1, when He appeared to Abram in a vision:  "After this, the word of the LORD came to Abram in a vision: "Do not be afraid, Abram. I am your shield, your very great reward. "
A shield for the downcast
Have you ever been so sad or discouraged that you couldn't even keep your head up? It would take someone very close to you – someone you really trust to lift your head? Ps. 3:2-3, "Many are they who say of me, "There is no help for him in God. But You, O LORD, are a shield for me, my glory, and the one who lifts up my head." So even when there are multitudes around you filling your head with discouragement, God is your shield.
Surrounded by God's favor
God's character is such that He always wants to bless those who believe in and obey Him. "For You, O LORD, will bless the righteous; with favor You will surround him as with a shield." (Ps. 5:12) Shields up!
Let there be no mistake: You are protected
Just in case you were wondering if/how God will protect you, here is 1 verse with 9 different expressions of that idea. 9 in a single verse!
The Lord is my rock and my fortress and my deliverer; My God, my strength, in whom I will trust; My shield and the horn of my salvation, my stronghold.
The Shield of Salvation
Later, in that same chapter, we add to that list – #10: the Shield of Salvation. Where would we be without this precious gift? (v. 35) "You have also given me the shield of Your salvation; Your right hand has held me up, Your gentleness has made me great."
My Response
Since I've been given this gift of salvation, I should acknowledge it. This verse tells me how. Ps. 28:7, "The Lord is my strength and my shield; My heart trusted in Him, and I am helped; Therefore my heart greatly rejoices, And with my song I will praise Him."
Rely on the Word
His Word is truth, and that is one of His best means to reveal Himself and His will to us. Obedience is a clear demonstration of our trust in Him. Prov. 30:5 says, "Every word of God is pure; He is a shield to those who put their trust in Him."
Advent
is coming!
If you have enjoyed this study on the names of God, or if you are looking for a fun Advent project, check out my Scripture Writing Kit. We will write out 2-3 verses daily as we journal the 50 Names of Christ. Set to begin December 1st, this is a fun way to learn more about who Christ is. For more information, click here.
Adore – O Jehovah Magen, we praise You for Your protection and the Shield of our Salvation!
Admit – In my times of despair, I don't always remember to look for my rock, fortress and deliverer.
Ask – I ask that You remind me that You have formed a hedge of protection around me. Give me a holy boldness to step out of my comfort zone.
Acknowledge – Thank You for Your protection and the dear gift of salvation through Your Son.
Thanks for stopping by today. Connect with me and share a verse with me that you use to rely on Him as your Shield.





by