Leftovers showed me about Peace.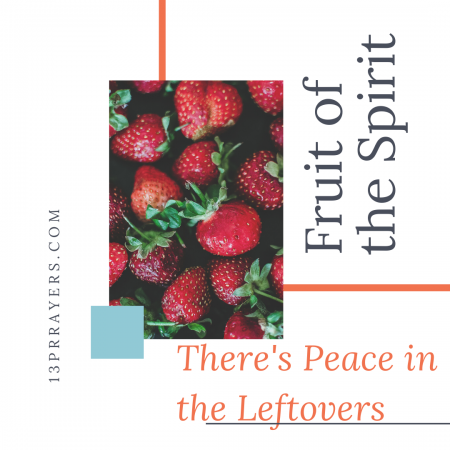 I love Thanksgiving leftovers!
For the past decade or so, I've been in charge of Thanksgiving dinner for my extended family. While in recent years, Hubby has convinced me to order a smoked turkey from his favorite BBQ place, I really don't mind cooking a jumbo bird – for 2 reasons.
First, I love the smell that fills the house and the generational tradition of sneaking the crisp turkey skin off the platter while the bird gets carved up. But the second reason has to do with leftovers.
When someone else fixes the bird, or there's ham instead, or we opted for just a turkey breast, it's a tragedy! There must be sandwiches. Or soup, or other fabulous concoctions to use up the remainders of the bird.
So, why am I talking about leftovers when Thanksgiving is so far away?
Because I think leftovers are important. Important enough for us to focus on them as we look at PEACE, the 3rd fruit of the Spirit. (How timely a topic in this current time of uncertainty!)
The Crowd
In John 6, a crowd was following Jesus because they had seen Him heal the sick. He went up on a mountain and sat with his men. When he "looked up and noticed the crowd," He asked Phillip where they could buy bread to feed them.
It was a test. Jesus already had a plan. (v. 6) And believe me, when He looked up and noticed them all coming toward Him, He wasn't surprised in the least. And He wasn't worried about it AT ALL.
HE HAD PEACE.
Phillip's answer reveals his human anxiety. He told Jesus that even 200 days' pay wouldn't buy enough bread to give each person just a little. Then Andrew, Simon Peter's brother chimed in about some kid with 5 loaves and 2 fish, but how will that do anything with so many?
Do you see? There they were — face-to-face with Jesus, and worried about their need. Matthew 6:8 says, "…your Father knows the things you need before you ask Him." Jesus knew, too, and He had a plan.
Step One: Sit down
I was raised in churches that liked to feed people. Okay. Who am I kidding? Pot luck dinners were a staple. But have you ever noticed that on this particular day, Jesus had everyone sit down? This wasn't a BUFFET. The crowd was served by ONE SERVANT OF GOD–Jesus.
They sat. Five thousand MEN. And if only half the men brought their wife, that's 5,000 + 2,500, or 7,500 adults to feed. If only half of the 2,500 couples brought just 1 child, that's still an additional 1,250 little mouths to feed – for a grand total of 8,750 guests! And they sat and waited for the Son of God to serve them.
My word of the year for 2020 is WAIT, so this really speaks to me.
Yes. Many sat and waited.
Step Two: Give thanks for what you have
Before Jesus distributed anything, He GAVE THANKS. I have to believe that His thanks was more than our cursory "Thanks, God, for the food and help it nourish our bodies" prayer. He was thanking HIS FATHER for providing the teachable moment FOR HIS MEN. for the crowd. And for the child who had obediently brought the lunch his mother had prepared – even when clearly none of his friends had packed a lunch.
Yes, Jesus gave thanks for 5 barley loaves and 2 fish that day.
Step Three: Be obedient in the waiting
Remember Step 1? The disciples told everyone to sit, but John 6:11 clearly says, "Then Jesus took the loaves, and after giving thanks, He distributed them to those who were seated."
The people who waited in peace got the blessing that day. I know that some people didn't sit because it refers to those who were seated.
In that setting, why would you stand when you'd been told to sit? Maybe you're trying, on your own, to find a meal. Or you're pacing while Christ feeds a group on the far side of the hill. Maybe you're running over there to get some "while supplies last." And those worries would not only have you on your feet, you'd go away hungry.
You see, faith & trust in God go hand in hand with peace. Fortunately, if this is a weak area for you, you don't have to be anxious about being anxious. The source is clear. (See also Is. 26:3; Phil. 4:6-7; 1 Pet. 5:7, Eph. 2:13-14; and Is. 9:6) In your time of waiting, just keep doing the last thing God told you to do. If that means you hunker down and self-isolate, then do that. It's okay.
Step 4: Clean Up
At the end of verse 11, it tells us Jesus served the bread and the fish to everyone seated "as much as they wanted." Then it was time for the lesson: Jesus had his disciples collect the leftovers "so that nothing is wasted."
How cool is it that (1) Only 1 kid brought a meal, but 12 people brought empty baskets the size of large backpacks that could hold multiple 2 liters of your favorite sodas? (2)There were also 12 disciples! So each man could see with his own eyes how the food had miraculously multiplied. No one had to share a basket or take someone else's word. And those were just the leftovers! Surely this was a startling wake-up call for them. This teacher they were following was Someone Special!
Friend, is your mind filled with peace or worry today? Romans 8:6 says, "The mind of sinful man is death, but the mind controlled by the Spirit is life and peace." Ask God today to grow the fruit of peace within your heart and life. Rely on God – regardless of your circumstances. Regardless of the news. Fear is an emotion, and a very normal thing under current circumstances like COVID-19. But STAYING AFRAID? Nope. That's a choice.
Father, we thank You for lessons, even from leftovers. And we ask You to remind us to sit and wait for You to meet the needs we have. Needs that You know about, even before we do. Grow our peace and dependence on You and You alone during this time of uncertainty.
Thanks for stopping by today. Connect with me on social media and tell me about the times God has met your needs. Or ask for prayer. I'm here for you. #alonetogether
If you are feeling fearful during this global pandemic, join my FREE course: Less Fear More Jesus here.





by