Welcome to a very exciting blog hop.
Today His Kingdom Come is celebrating the launch of a brand new Faithart stencil & mask line "Praise Him" designed by Diane Marra.
His Kingdom Come has created tools to draw you into God's presence and lead you deeper into creative living. Faithart tools help us create art with the intention of connecting with God.
His Kingdom Come faithart tools help you exercise the artistic gifts God has bestowed upon each of us. These faithart tools allow you to work together with God to discover the creative, holy and abundant faithart He has placed upon your heart! Join His Kingdom Come in creative expressions of faith!
His Kingdom Come showcases faithart products designed by Christian artists who know and love God and are passionate about sharing their faithart! Our faithart products include canvas ephemera, stamps, stencils/masks and Thermofax screens.
A team of talented HKC artists have come together to launch these exciting new stencils & masks. This blog hop is your chance to get to see how these artists have used them in their faithart.
It doesn't matter where you start within the blog hop. Or you can start at the beginning at His Kingdom Come. Each blog has the complete list of participants.
Kathy Shaull  – You are Here! Welcome! See my art below:
As you visit each blog you will be given a letter eg. D.   When you have collected all the letters they will make a word. When you have worked out the word email Bernice with the word. We will randomly choose 4 people who have the correct answer to win a free stencil of their choice.   All entries must arrive by Noon (Pacific time) on Tuesday 23rd June.
The letter to collect from my blog is "

O

" but please keep reading.

 

How I used the "Praise the Lord" stencil/mask:
First, I must confess that I had a very DIFFICULT time CHOOSING which stencil I wanted to try. All of them are postures I want to use in my art, so I know I'll be placing an order soon!
I started my first piece in a large Dylusions Journal. I wanted to play with my Faber-Castell Gelatos today, so I put down a layer of Gesso first. I'm going to admit here that I use a Liquitex gesso and pour it in
Gesso is not required for Gelatos, but they work about 100 times better if you are NOT on a porous surface. If you've never used them, they are like coloring with lipstick. Creamy and luscious. You do not have to cover the area with the color completely. You'll be blending in a minute.
I had not tried to smooth out the gesso, and it left wonderful texture that caught the color. I was using a variety of blues and purples, darkest below and moving lighter toward the top of the page.
I blend with my fingers, but you can use a blending stump or even a wet baby wipe or brush. The gelatos are creamy watercolors, so the effect is different based on however you blend. I started with the darker colors and moved upward, changing fingers when I changed color.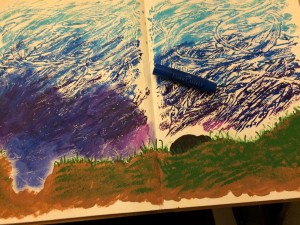 The ground was done in acrylics. I put a pit on the left and a rock in the grass to go with my chosen verses.
Then I used the stencil. I used pan pastels for this layer. The white required more than one layer of pan pastel to pop. If you haven't used them, they are a smooth chalk that is wonderful fun. But to get more layers of coverage, you must seal it between layers. The pastel needs tooth to stick, and once you put down a layer you have made the surface smooth. I use a spray made from milk products as a sealer. It seals and creates a slightly rough surface where you can add another layer.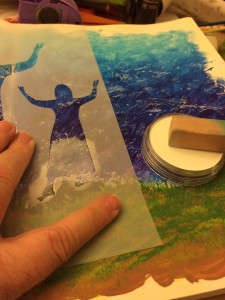 When I finished with several layers, I still didn't feel the stencil popped enough, so I painted around it with acrylics. My favorite stamp looks like chicken wire, and I added it randomly around. My Logos365 word this year is "Enough" so I added it stamped beside the girl. I outlined her with Pitt pens.
Once I added a bit to the pit, I was ready to add my scripture on tags: Psalm 40:1-3 "I waited patiently for the LORD; he turned to me and heard my cry. He lifted me out of the slimy pit, out of the mud and mire; he set my feet on a rock and gave me a firm place to stand. He put a new song in my mouth, a hymn of praise to our God. Many will see and fear the LORD and put their trust in him."
This is my final project:
I was having a great time with the stencil, so I pulled out an old Gelli print and traced one of the girls. I colored her in with Neocolor II watercolor crayons. Then I attached Dymo labels (Goodness & Mercy) with 3D wings and a  tag. This verse really changed for me when I read a different translation: Psalm 23:6 "Surely goodness and mercy will CHASE AFTER ME all the days of my life."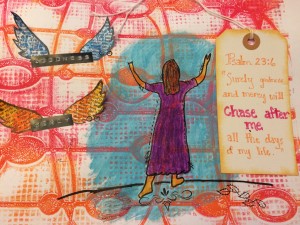 I added some rub ons and called it "Done."
I really couldn't stop playing with the stencil so, I pulled out my Gelli plates to play some more. I have an 8×10, a 3×5 and a 4″ round plate collection. Here are some of my favorite prints from the afternoon:
My all-time fave came when I layered the MASK and another stencil. This left a white space the shape of the girl which I colored with watercolor pencils and outlined with Microns.
If you're still with me after such a long post, thank you! The stencils are durable and come with the masks. I can easily recommend them!
I'd like to invite you to read more about me. Start Here to see what my 13Prayers are for you. If you have a grief issue, I offer an art journaling course both here and at HKC called Good Grief.
And, I have a free printable bookmark for you if you sign up for my newsletter with tips for Growing Your Relationship with God. My monthly newsletter includes free Grief journaling prompts and a monthly calendar.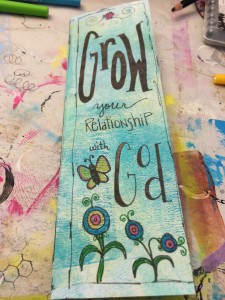 We hope you are as excited as we are about this new product line from His Kingdom Come, an online creative community, a place where you can find encouragement, share your heart and receive prayer and inspiration!
To join our community please visit His Kingdom Come
Prize winners will be announced on the His Kingdom Come Blog on Wednesday 24th June.





by