Grieving – the swarm of thoughts and feelings following a loss – is tough.
Grieving? Just when you think you have it all together…WHAM! A song or a scent or something perfectly benign slams into the barely-healed wound, and the bleeding starts all over again.
In case you're new to my blog, grief is one of the reasons I'm here. I was grieving the loss of my Daddy, and I wasn't doing such a great job of it. Dad died in December 2012.
As I was searching for resources to help me deal with MY grief, I realized there was a gaping hole in what was available. I wanted a faith-based, artsy course that didn't require tons of time but that would move me THROUGH my grief.
I couldn't find one. So I wrote one.
Why am I mentioning it here today? Good question.
I recently got the old grief two-by-four between the eyes. I was driving down the road, listening to Christian music. I do this all the time. But on the day in question, one of the songs I personally selected for Daddy's funeral started playing. I had to pull over to weep.
So, I've used the days since then to review the scriptures I assigned to each of the stages of grief. We'll touch on each one this month.
Shock: Ps. 56:3, "When I am afraid, I put my trust in you."
Denial: Phil 4:8, "Finally, brothers and sisters, whatever is true, whatever is noble, whatever is right, whatever is pure, whatever is lovely, whatever is admirable-if anything is excellent or praiseworthy-think about such things."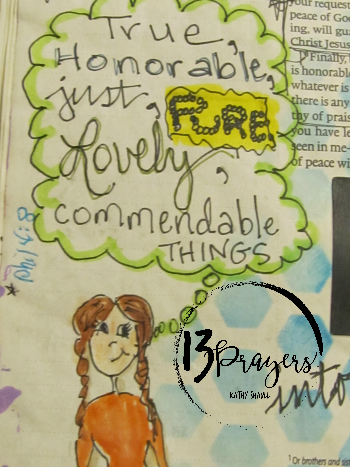 Action Plan: If you have suffered a loss of any type, my course can help you through your grief. Maybe you know someone who is dealing with a difficult situation. This could be the answer for them. Check out Good Grief.
Thanks for coming by today. I prayed for you.





by