Cinderella had nothing on Esther.
Both had humble beginnings,
but Cinderella never used a banquet to save a nation.In part 4 of this month's theme, God's Special Delivery, I want to examine an odd method of battle: dinner.
I love the story of Esther, especially when her uncle tells her that maybe God put her here "for such a time as this." Isn't that how we should look at each situation we face? I'm certain Esther didn't look at herself as a warrior who could mount an attack and save her nation. But she used what she had and fought her battle the best way she could.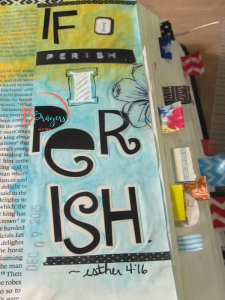 She had to go before the king without being summoned. And the last queen lost the job for disobedience, so this was a huge deal.
But Esther faced the moment with a great attitude, "If I perish, I perish."
And the king showed her mercy.
God shows us mercy, too. He just wants us to be willing to do what we can with what we have. Even if all you can do is cook dinner, God can use that to foil the enemy. He did with Esther.
And that's how these Bible Journaling pages came to be, too. I had some leftover paint on my craft sheet from another project. I grabbed a sponge and started pounding around on the pages. I had some new letter stickers already out, and I used my Dymo lettering tool. I also found an acetate flower. I cut it in half to use on both pages. I just used what I had.
I'm a member of several online groups that discuss Bible journaling, and I often see posts about people who don't have many supplies. It's not the supplies that matter. It's the time in the Word. Time with God. Even if all you have is a pencil, you can draw or write to worship Him.
Action Plan: When you face a moment that's out of your comfort zone, remember that God is with you. And He may have put you there – for such a time as this. Use what you have, and let Him do the heavy lifting.
Next week (a February 29th Leap Year Bonus Post): God sent perfection.
Thank you for spending time with me today. I spent time in prayer for you.





by