Jehovah Rapha is The LORD Who Heals.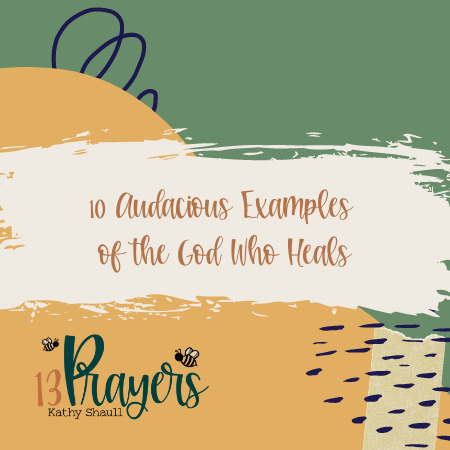 I am living proof of the LORD Who Heals
In college, I developed strange symptoms that led me to an OB/Gyn. He told me it was highly unlikely I would ever have children of my own. I was devastated. It wasn't something a doctor heals.
And it didn't help that years later I lost my boyfriend when our conversations turned to a life together, and I told him about my problem. He ghosted me — even before there was a name for that particular behavior.
Fast forward even more years, and I met Hubby who told me there were plenty of kids out there who needed a good home. And we married.
So when I became pregnant, we were thrilled. And then crushed weeks later that there was no heartbeat.
But God healed my body and my broken heart. Today I have two beautiful adult children who once grew inside me!
The LORD Who Heals
Jehovah Rapha [yeh-ho-VAW raw-FAW] "The LORD Who Heals" first appears in Scripture in Ex. 15:25-26. "Then Moses cried out to the LORD, and the LORD showed him a piece of wood. He threw it into the water, and the water became fit to drink. There the LORD issued a ruling and instruction for them and put them to the test. 26 He said, "If you listen carefully to the LORD your God and do what is right in his eyes, if you pay attention to his commands and keep all his decrees, I will not bring on you any of the diseases I brought on the Egyptians, for I am the LORD, who heals you."
This was only 3 days after God led His people through the Red Sea. God is promising they will be healthy on their journey – without the plagues they saw in Egypt.
This is a self-proclaimed name – a name God Gave Himself. It came from His own mouth, so we need to pay close attention to it.
The Word is filled with examples of how God heals:
2 Kings 2:21 – God heals waters–"Then (

Elisha

) went out to the spring and threw the salt into it, saying, "This is what the LORD says: 'I have healed this water. Never again will it cause death or make the land unproductive.' "
2 Chron. 30:20 – God hears and heals–

And the LORD heard Hezekiah and healed the people.

Psalms 147:1-6 – He heals mind/emotions–

Praise the LORD.How good it is to sing praises to our God, how pleasant and fitting to praise him!

2

The LORD builds up Jerusalem; he gathers the exiles of Israel.

3

He heals the brokenhearted and binds up their wounds.

4

He determines the number of the stars and calls them each by name. 

5

Great is our Lord and mighty in power; his understanding has no limit.

6

The LORD sustains the humble but casts the wicked to the ground.

Ps. 103:1-5 – God heals bodies–

Praise the LORD, my soul; all my inmost being, praise his holy name.

2

Praise the LORD, my soul, and forget not all his benefits—

3

who forgives all your sins and heals all your diseases,

4

who redeems your life from the pit and crowns you with love and compassion,

5

who satisfies your desires with good things so that your youth is renewed like the eagle's.

Ps. 41:4 – He heals our spirit–"

I (David) said, "Have mercy on me, LORD; heal me, for I have sinned against you
God promised to heal an entire nation in 2 Chron. 7:14, but it is conditional:
If my people, who are called by my name, will humble themselves and pray and if my people, who are called by my name, will humble themselves and pray and seek my face and turn from their wicked ways, THEN I will hear from heaven, and I will forgive their sin and will heal their land.

I don't know about you, but I think we need to get on that right away!
Jesus performed many healing miracles:
He heals the blind to show God's power–John 9:1-7
Jesus heals a lame man because of the actions of others that had faith–Mark 2:1-12
He heals a woman who hoped to be anonymous–Mark 5:25-34
He even heals a friend AFTER death–John 11:38-44
God provided a sacrifice Who Heals
Isaiah 53:4-5, "Surely he took up our pain and bore our suffering, yet we considered him punished by God, stricken by him, and afflicted. 5 But he was pierced for our transgressions, he was crushed for our iniquities; the punishment that brought us peace was on him, and by his wounds we are healed."
We are so incredibly blessed to know the God Who Heals!
Adore- I praise you, Jehovah Rapha, for the blessings of healing I have seen. You blessed me with survival of COVID despite my long history of asthma and pneumonia. Only YOU could have done that.
Admit- I admit that I don't always turn to you for health issues. Many times I try to deal with them on my own.
Ask – Help me to remember to pray for those with health issues. Bring people to mind who need Your help and care. And we ask that you lead America to revival so that You can/will heal our land.
Acknowledge – I thank You for Your Physician's Care and Compassion.
Thanks for spending time with me today. It is my prayer that the Father will keep you healthy and safe. Drop me a note here or on social media and tell me how God has healed you!





by