I can depend on God. Always.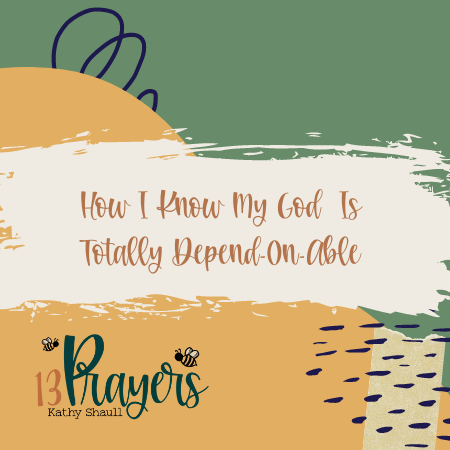 My God is totally depend-on-able.
Like a newborn
When my children were newborns, I was fortunate enough to breastfeed them. Nursing babies must depend on their mothers for everything. Everything. Warmth. Comfort. Food. Diaper changes. It's an overwhelming responsibility, especially for someone who is dealing with crazy hormone flux and lack of sleep. But it's also joyous, because you want that child to thrive. You want them to depend on you. And you want them to know you'll always be there for them.
Depend on God Almighty
Just like I looked after my children, God Almighty is looking out for His people. El Shaddai [el shad-DAH-ee] is God Almighty, or The All-Sufficient One.
You see, the love God has for us is far greater than the love a nursing mother has for her infant. And God want to be THE SOURCE of everything for us. He wants us to depend on Him for everything.
Listen to God Almighty
The way I look at it is this: if God takes the time to introduce Himself to someone in Scripture, then now, years later, I should pay closer attention to that. And when He repeats His introduction to new members of the same family, there must be something to that.
In Genesis 17:1 & 6, God first identifies Himself as El Shaddai. "When Abram was ninety-nine years old, the LORD appeared to him and said, "I am God Almighty ; walk before me faithfully and be blameless… I will make you very fruitful; I will make nations of you, and kings will come from you." Abram AKA Abraham had a face-t0-face  chat with God and this was what Abe was supposed to call God going forward. And he did.

The son(s) knew to depend on God Almighty
Abe's son Isaac blessed his own son Jacob in Gen. 28:3, and he has God's name right. "May God Almighty bless you and make you fruitful and increase your numbers until you become a community of peoples." He also knew the promises God Almighty made. 
Then years later, Isaac's son Jacob got a message directly from God, too. Genesis 35:11 says, "And God said to him, "I am God Almighty; be fruitful and increase in number. A nation and a community of nations will come from you, and kings will be among your descendants."
Later revelation is more in-depth
The interesting thing about knowing God as El Shaddai, is that He chooses who to reveal Himself to – and to what degree. In Exodus 6:3, God told Moses, "I appeared to Abraham, to Isaac and to Jacob as God Almighty, but by my name the LORD I did not make myself fully known to them."
So I feel better knowing that there will potentially be things that God reveals to some people that He doesn't reveal to others. That also reinforces the fact that when God DOES reveal something to us, it is our responsibility to share it with others.
So, I'm going to continue to share what I learn about the names of God in Scripture. Thanks for joining me.
Adore – I praise you, God Almighty, El Shaddai, because You have never let me down.
Admit – I regret that I don't always look to You for answers and solutions first. Instead, I tend to try to work things out on my own.
Ask – Help me to recognize the circumstances when I am leaning on my own wisdom instead of Yours.
Acknowledge – Thank You, El Shaddai, for always being dependable.
Thank you for stopping by today. Do you ever try to help God out and work on things on your own? Let me know.





by