You don't need someone to deliver pizza. You need God to deliver YOU.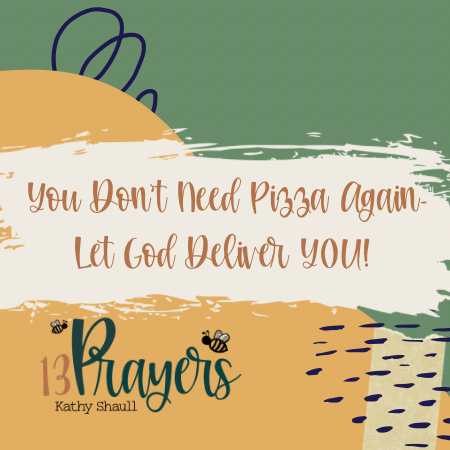 Can God deliver me with donuts?
When I was single, I used to carpool to work with a lovely woman named Elaine. We lived in a suburb outside the small, rural community where we taught. One morning, I decided to run by the post office before I joined Elaine for the 30 minute drive to work. This was not unusual for me, and that day I needed to purchase stamps. Luckily my post office had a self-service area, so the early hour wasn't an issue. Who knew it would turn into a chance for God to deliver me!
But that day was different. The closer I got to the post office, the more I started thinking about… donuts.
I have had other "warning light" moments before, but not like this. It was oddly specific: "Don't  buy stamps, buy donuts." And the closer I got to the post office, the louder it got.
I refer to this as "my little voice," but I know it was the Holy Spirit. He told me I had to pull over. I HAD to change direction. It was time to buy donuts.
Elaine appreciated the sweets, and we shared a good laugh…until the radio announcer reported the shooting at the very post office I would have been inside. God is the God Who Saves – and sometimes He uses donuts.
The God Who Saves
El Moshaah [EL mo-shaw-AW], The God Who Saves, is from Ps. 68:20, "Our God is the God of Salvation; and to God the Lord belong escapes from death." Yep!
Scripture is full of references to God as Deliverer and Refuge. Consider King Nebuchadnezzar's words after throwing 3 men into a fire so hot that it killed those who tossed them in. But the King saw FOUR men unbound, walking in the fire!
When Neb had them removed and saw they were fine (and not even smoky-smelling), he said, "Blessed be the God of Shadrach, Meshach, and Abednego, who sent His Angel and delivered His servants who trusted in Him… because there is no other God who can deliver like this." (Daniel 3:28-29)
Saved from Egypt
Moses' father-in-law Jethro saw it after Moses told of God's work in not only getting the nation of Israel freed from slavery, but through all the trials that followed in the wilderness. "Blessed be the LORD, who has delivered you out of the hand of the Egyptians and out of the hand of Pharaoh, and who has delivered the people from under the hand of the Egyptians." (Ex. 18:10) I mean, Moses went back into a country where he had killed a man and was able to leave with the entire slave population. And Jethro noticed.
Salvation continues
Of course, God as The One Who Saves didn't end in the Old Testament. Matthew 1:21 says, "And she will bring forth a Son, and you shall call His name Jesus, for He will save His people from their sins." God saves by His Son Jesus. It's available to anyone. Check it out here.
Our part?
Fortunately, God does the hard heart  work. We just have to do the head work./ Believe and trust. Ps. 9:9-10 tells us, "The LORD will also be a refuge for the oppressed, a refuge in times of trouble. And those who know Your name will put their trust in You; for You, LORD, have not forsaken those who seek You."
Adore: Precious Father God, we praise You for being the only God. The God Who Saves us from our sins. Who gave His only Son to pay the price that we may come before You, whole and forgiven.
Admit: Father, I admit that there are times when I try to do the delivering all on my own. But there's no way that works. I'm foolish to even try.
Ask: I ask that you search my heart and my life for anything that would block others from seeing You at work. Shine Your loving light on that part of me until I am completely clean. Deliver me!
Acknowledge: Thank You for Your Son, Jesus, and His ultimate sacrifice for me.
Thanks for spending a minute with me today. Has God ever saved you from harm? Let me know below or on social media!





by