Let's look at a wonderful gift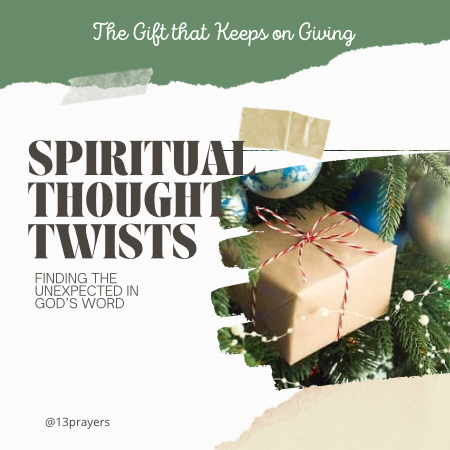 As we finish this year of Spiritual Thought Twists, I am working on my last-minute Christmas gift list. I have several people on my list who are really tough to buy for. Do you? I always want to 'score a home run' with my purchases, but sometimes I swing and miss. It always helps if the recipient TELLS ME ahead of time what they want or need.
God is the Gift Master
Not only did God give the ultimate gift in His Only Son Jesus dying for our sins (with His birth being our true focus this time of year instead of the rampant consumerism) BUT God also tells us to ask for an on-going gift in James 1:5-6.
"If any of you lacks WISDOM, let him ask of God, who give to all liberally and without reproach, and it will be given to him."
Wow. Such a promise. Ask wisdom and get it. NO JUDGEMENT. Just liberally-given wisdom. I love this. The "No reproach" part. I get frustrated with myself when I act without wisdom, but the simple act of ASKING FOR WISDOM can counteract that.
Yet that's where most people stop reading…
This comes with a "BUT"
"BUT let him ask in faith, with no doubting, for he who doubts is like a wave of the sea driven and tossed by the wind."
Our sole responsibility in this prayer for our wisdom gift is that we must BELIEVE God will keep His word and provide it. If there's one thing I have learned this year it's that God is rely-on-able. Okay, yes. I know. That isn't a word. But God is faithful. And His faithfulness SHOULD grow my faith.
So why did I spend several months being tossed about by the wind? I was miracled this summer! More than once!! And then I struggled with my simplest faith in the fall.
That's my lesson to you: Ask for wisdom NOW because the enemy is paying attention. Once he sees God at work in your life, he will do whatever he can to derail you because you have become a threat.
So be proactive. Ask for the gift of wisdom.
And join me next year as we explore Old Testament Miracles.





by