Family is the June theme for Take Me Deeper.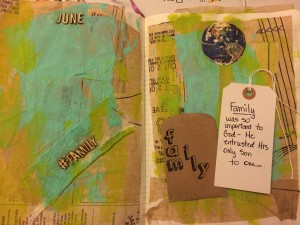 This is my June theme page in my Take Me Deeper journal.
June is the start of my summer break, and "Family" is the perfect theme for me. School is out, and it's time to hang out with those we love.
Family was God's idea.
God created family. And when it was time to send His only Son to Earth, God entrusted this priceless gift to one that HE hand-picked.
For June 5, our study took us to Genesis and Creation. At the end of each day's work of creating, God evaluated what He had done – kind of a Creation checklist. (The planner/list-maker in me loves this about God.)
Light. Day & night. Good.
Sky & water. Good.
Land & seas, plants & trees. Good.
Stars & moon. Good.
Birds & fish. Good.

But, when He created Man, He saw Man was alone. Alone. And created in God's image. God created so HE would not be alone, so He knew our hearts needed companionship. And for the first time, He was not satisfied with things.
So God created FAMILY, so we wouldn't be alone.
Don't get me wrong. After another school year with 300+ five and six-year-old children, a bit of solitude feels like a luxury. But even I couldn't survive that indefinitely.
---
I have chosen to use a theme for this month's study. I used matte medium to adhere old sewing patterns (ones my Mom actually used years ago). I added strips of gauze for additional texture. Then I scraped acrylic paint over it all. Washi tape and a tag. Pan pastel through a stencil. (The triangles to represent the 3-part Trinity). A bit of drywall tape. And a number stamp. I added the Earth as a reminder of the Creation story.
For this week's study, I stamped a grove of trees, and put Man in it ALONE.
Join us at HKC for our Bible study.
And spend time with your family. God gave them to you.





by