What's in a name?
Welcome & Blessings! Hopefully, you have considered how your characters will grow and change from Character Development. Today let's talk about names.
You probably already have a name in mind for your main characters. Good for you. (It's easier than calling them Man #1 or Evil Villain. Today I want you to really ponder the power of a name.
Power of a name
Like it or not, names come with preconceived associated feelings. If you were looking for the next quarterback for the football team, would you look for a Marvin or a Curt? If you need help with your Algebra homework, are you more likely to call Tiffany or Betty? When you think about how your character is going to grow and change, could you choose a name that fits better?
Fortunately, the computer allows us to rename characters with ease if we change our mind later on, but let's do all we can to have a great name from the start. You don't want to name your older characters names that weren't around as first names in the days when they would have been born… So, no modern-day grannies named Katniss. Sorry.
Where can you find great names?
phone book – be sure to browse when you're on vacation, too
baby name book – don't forget to check the meaning
cemetery – great for names from a specific era
websites:
search for "common surnames 1910" (entering the decade of your choice) for info from the Census Bureau for great last names
street names
city names
store names
Tips:
consider the nickname, too
use the meaning
use any associated preconceived idea about a name to your advantage – especially with minor characters. It helps the reader develop an impression of them quickly.
Can't find a name that works by meaning? Try translating the meaning into another language. You may end up with something that works for a surname. I went to Google Translate and put in (as English) "devil" and clicked the down arrow. I selected German: "Teufel" which kinda sounds like devil. Could be a villain's last name???
If you do go to change it later, don't just do a blanket "Search/Replace." Check each occurance. Some names are found within other words, and you'll get some odd results. For example, "Sal" changed to Mike means that "spousal, arousal and refusal" could turn to spoumike, aroumike and refumike if you're not careful.
Me? I got my family's name from a small town in northern New Mexico (Maxwell) just off a map. The father, Ike, needed a strong "cowboy-ish" name from an era 50 years ago. And I admit that I changed the mother's name at the last minute because it became confusing within a scene or two. When I started this journey 25 years ago, they all started with completely different names. More about that another day.
You? Buckle down. Grab the closest Baby Name book. Your Character Name Hunt Template is available in the set of 21 More Planning Templates, here in my shop. Hopefully, you already picked up the 10 Free Templates, too!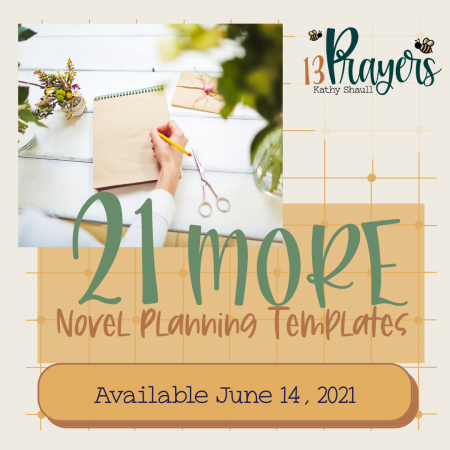 ---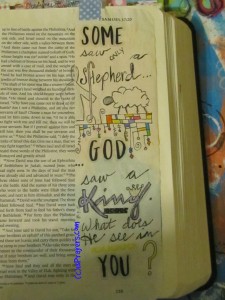 1 Samuel 16 tells the story of David – the shepherd boy – being chosen as king. I love this story. When I look in the mirror, do I see what God sees? Probably not. This inspires me to look with His eyes. To see what He has planned for me.
I'd love to hear from you on Facebook at 13Prayers if you have any questions or comments.





by