Fix it later…
Once an English teacher, always an English teacher.
Confession time.
Today's assignment comes under the "Do as I say and not as I do" segment of our programming. I'm the world's worst at staying in draft mode. That's why my daily word count goal has always been so low.
Brains
When you are writing your rough draft, that uses the right side of your brain. Create. Combine words in new patterns. But the fixing? The revising. The editing. That's the left side of your brain.
It is best to pick a side and live there. When it's time to be creative, create. Save the fixes for later.
So…
So, enter the Revision Template. I created this in the hopes that with my next rough draft I will do better. And I did. With my first novel , when I saw things that needed fixing, I'd stop the flow and fix. I could revise and edit all day. Polish. Polish. Polish. But I've learned to do better now.
Oops. We now pause for a word from our sponsors: Reba Revision and Edward Editing. (Just in case you don't remember the difference.)
Dictionary moment:
Revision: (happens before editing) to alter something written to make improvements or update. [You look for plot troubles or change POV characters. You alter the scope of the work in some way.] Remove lengthy descriptive passages. Stop using the same adjectives all the time. I always check how one chapter flows into the next AKA "Transitions." This was feedback I got from an editor who read something I wrote way back when.
Editing: (happens when the words are all there) Grammar, Usage & Mechanics (AKA "GUM" – spelling, run on sentences, random punctuation floating around, removing an extra word you missed when you revised.
Here's a pretty good revision list – although I think it includes some editing items as well.
The Fix It List Template is so you will write problems down and keep on working on the draft instead of fixing in the moment and stopping your flow.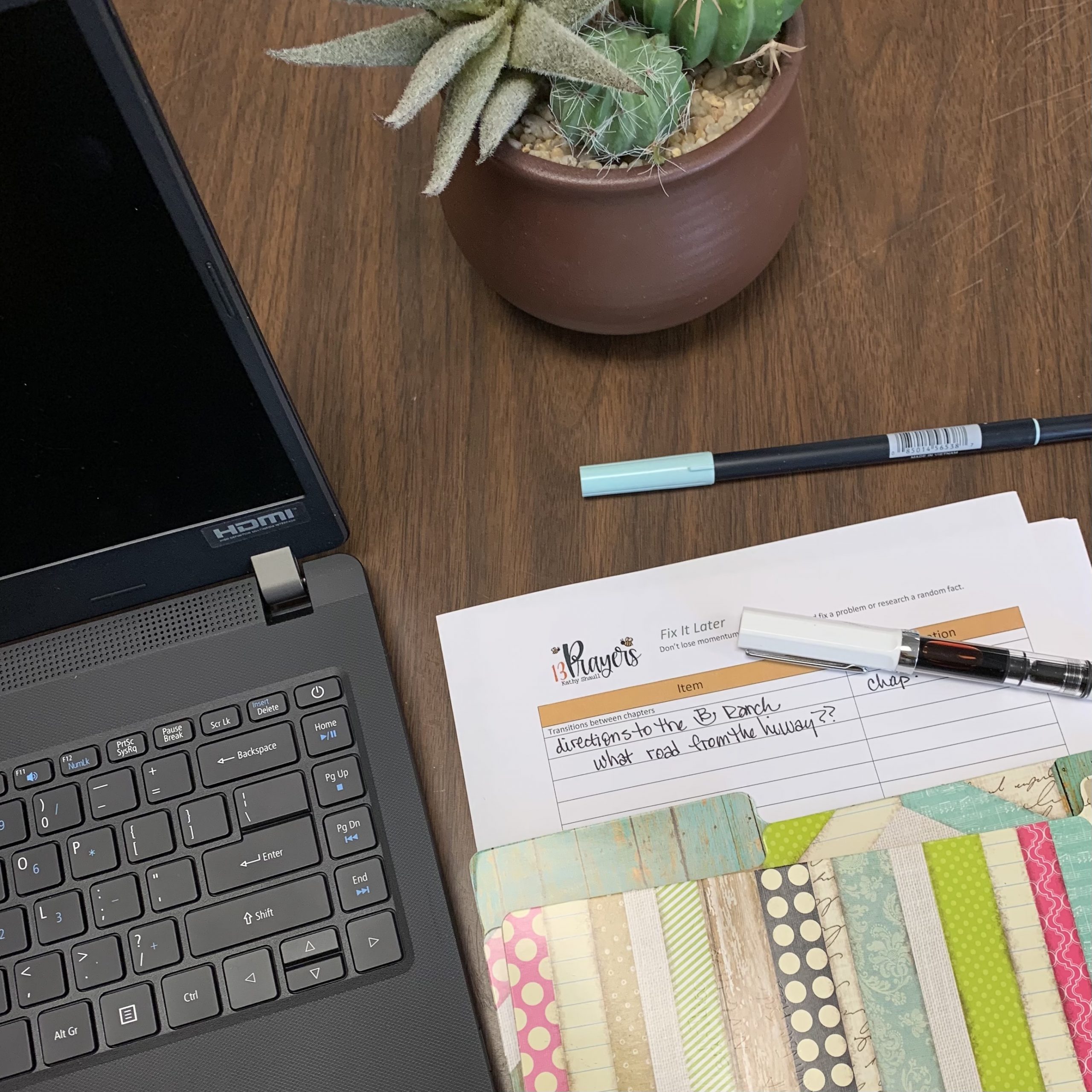 Me? I was always putting sticky notes here and there, so I'm excited about this template. One of my tips when I'm on a roll and don't want to check something or come up with the name of some random person or place is to put XXX at the questionable spot. Later I can search for "XXX" and fix it.
You? Check out the revision list link above. Mostly this template is designed to keep you flowing once you actually start your draft. Maybe you ARE ready to start already. Good for you!
Do you have aspects of your writing that you always go back and double check?
The 10 Free Templates list with links is on my Novel Planning Page. You'll also find information there about the additional template set I have available. Click here for more information. (All templates are available June 14, 2021.)
---
In Mark 11: 12-14, Jesus cursed a fig tree that did not provide fruit for Him.
Jesus is my King. It is imperative that I offer my fruit to Him daily. Whenever He needs whatever I have.
Do YOU offer your fruit to the King?





by