Characteristics color how people see me.
How did I pick these 9 characteristics?
After spending 2019 exploring prayer, I was at a loss for a study topic for 2020. Until I started cleaning out my mother's house. Mom turned 91 last year. She's living in an assisted living center, and she's very happy there. And I decided I wanted to grow into some of the godly characteristics she demonstrates daily.
She recently decided she won't be moving back home again. She sold her car, and she's determined to clear out her house. But, of course, she's not physically – or emotionally – up to the task. So my sister and I have begun the challenge of cleaning out. We began in the "Sewing Room."
Mom was always sewing clothes for us. In fact we came across a spiral notebook that had swatches from everything she'd made for several years. She also loved to do counted cross stitch and embroidery. Even crochet. She's multi-talented.
As Sister and I gathered all the counted cross stitch patterns, I came across one for the Fruit of the Spirit. And then I knew: 2020 would be my year to explore these characteristics from Galatians.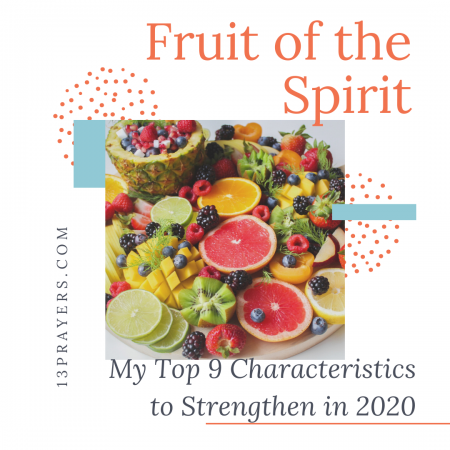 Basics:
Written by: Paul
Written to: the Galatian people
At the time Paul wrote the letter, it was a Roman province. It is located in present-day Turkey.
Written because: Paul needed to correct a false teaching
Someone was teaching that WORKS under the law will lead to salvation. This angered Paul who clearly states in Gal. 3:24-25, what the law's place really is: "So the law was put in charge to lead us to Christ that we might be justified by faith. Now that faith has come, we are no longer under the supervision of the law."
Paul was consistent in this teaching. In his letter to the Ephesians (Eph. 2.8-9), he said, "For it is by grace you have been saved, through faith – and this not from yourselves, it is the gift of God – not by works, so that no one can boast."
The 2 Lists of Contrasting Characteristics: (Gal. 5: 19-26)
Works/Acts of The Sinful Nature:
Basically, this is a list of what you get when you give in to evil. We aren't going to deep dive into these, but they can be divided into several categories: SEXUAL – sexual immorality, impurity, debauchery; FALSE WORSHIP – idolatry, witchcraft; HUMAN RELATIONSHIPS – hatred, discord, jealousy, fits of rage, selfish ambition, dissensions, factions, envy; and UNCONTROLLED INDULGENCE – drunkenness, orgies and the like.
None of those are characteristics that I would ever aspire to, but as I looked on the list, I was embarrassed to find the human relationships list had some traits I've spent some time on. Yeesh!
Fruit of the Spirit:
This is a list of what you get when you surrender to God. This is where we will spend the majority of 2020: love, joy, peace, patience, kindness, goodness, faithfulness, gentleness, and self-control.
FRUIT vs Acts/Works
Acts/Works take effort and, for the most part, a conscious decision. Pardon my English Teacher Mode for a minute and notice that this is PLURAL: actS or workS.
Fruit start small, under the surface and get more noticeable as nurtured. These are given by the Holy Spirit all together. One Fruit. As the Holy Spirit is given to us. Notice this is SINGULAR.
Holy Spirit's Character:
These 9 traits are the characteristics we find in the Holy Spirit. Holy Spirit is 1 person of our 3-person God: Father, Son – Jesus Christ, and the Holy Spirit. One way we know this is true is that Jesus mentions the 3 in Matt. 28:19, "Therefore go and make disciples of all nations, baptizing them in the name of the Father and of the Son and of the Holy Spirit."
So when the Spirit takes up residence in our hearts, He plants each of these 9 characteristics as a seed in our lives. Then He (the Holy Spirit) acts as Gardener to help them grow. That other list can act as weeds that choke out this fruit, so we must put to death the sinful nature.
Holy Spirit Within Us:
If we accept Christ as Savior, we receive the Holy Spirit to live within us: (If you don't know Jesus as your Savior, go here for more information.)
Gal. 4:6, "Because you are sons, God sent the Spirit of His Son into our hearts, the Spirit who calls out "Abba, Father."
1 Cor. 3:16, "Don't you know that you yourselves are God's temple and that God's Spirit lives in you?"
1 Cor. 6:19, "Do you not know that your body is a temple of the Holy Spirit, who is in you, whom you received from God?"
1 John 4:13, "We know that we live in Him and He in us, because He has given us of His Spirit."
Characteristics on the Calendar:
I'm excited. We're going to explore the Fruit of the Spirit in 2020. We'll examine what each characteristic really means and search out ways to nurture them and put them into action.
We are the hands and feet of Jesus on Earth.
And I want to reflect His face and character as well. Don't you?
Thanks for stopping by today. If you are interested in joining me on our Fruit-full Journey, why not sign up for email notifications? That way I can pray for you specifically. (I don't do spam, and I'll never sell your information.)





by