You cannot change a rock.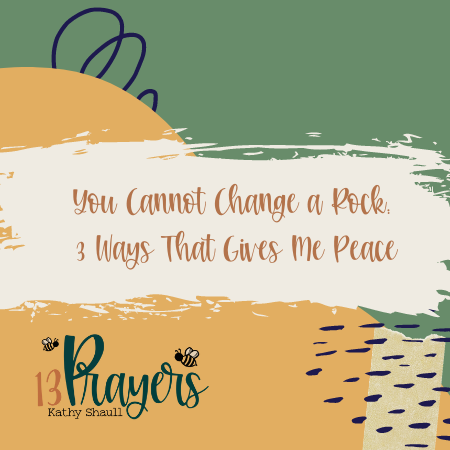 My hands cannot change a rock.
Rock or Play-doh?
School is gearing up again, and for the first time in forever, I'm not part of that organized chaos. What a change in my life! (Yippee for retirement!) But it made me think of a few things I'll miss. (Please keep in mind that my last 16 years were working with 5-6 year olds):
hugs from little people
smiles from students
seeing the light bulb go on when they learn something new
the smell of a new box of crayons
playing with Play-doh
Thinking of Play-doh made me think of one of my go-to lessons for the 5 or 6 year old who needed a little help learning the difference between what you can do at home vs what you can do at school. [For example, you can just get up and go get a snack or drink at home, but the teacher always needs to know where you are at school.]
In the lesson, I would give the child a rock and ask them to change it into a ball. And they would rightly look at me like I was crazy. Then I'd do the same thing, but this time I'd give them a handful of the moldable dough. Easy. The lesson? Some things you can change, and some things you can't. School rules are rocks. You have to leave them as-is. They don't change just because you don't like them. Sorry, kiddos.
God is MY Rock
In scripture rocks provided shade, shelter, and safety in the wilderness. Rocks were stacked to mark important events and build buildings. The law was written on stone tablets – the 10 Commandments on stone by the very hand of God.  A rock is a sign/symbol of permanence and protection.
Hannah sums it up in 1 Sam. 2:2, "No one is holy like the LORD, for there is none besides You, nor is there any rock like our God." This "Rock" is Jehovah Tsuri, The LORD My Rock. [ya-HOE-vah tsu-REE]. He is our Rock of Salvation. Ps 62:1-2, "Truly my soul silently waits for God; From Him comes my salvation. He only is my rock and my salvation; He is my defense; I shall not be greatly moved."
We should praise Him accordingly. Ps 95:1, "Oh come, let us sing to the Lord! Let us shout joyfully to the Rock of our salvation."

The Rock that will not move or change
Mountains are permanent piles of rock. Cities are built on/among them as a source of protection. "Those who trust in the Lord Are like Mount Zion, Which cannot be moved, but abides forever. As the mountains surround Jerusalem, So the Lord surrounds His people From this time forth and forever."
A rock works as a foundation, but not a heart
Any builder or homeowner would tell you that if your home doesn't have a firm foundation, it is doomed to fail. In Matthew 7:24-27, Jesus uses this as as a lesson for hearts as well. "Therefore whoever hears these sayings of Mine, and does them, I will liken him to a wise man who built his house on the rock: and the rain descended, the floods came, and the winds blew and beat on that house; and it did not fall, for it was founded on the rock. But everyone who hears these sayings of Mine, and does not do them, will be like a foolish man who built his house on the sand: and the rain descended, the floods came, and the winds blew and beat on that house; and it fell. And great was its fall."
We also see in Exodus 8:32, that Pharaoh's heart was hard. He refused to hear God's plan. "
But Pharaoh hardened his heart at this time also; neither would he let the people go." God didn't change Pharaoh's heart either. He used that leader's stubbornness to reveal His mighty power.
Change my heart, Jehovah Tsuri
We need a sharp, clear focus on The Rock and Who God is, so that our hearts will be pliable enough to do His will. Learning His names and creating that focus is, in a nutshell, what this year's study is all about.
Adore – Blessed Jehovah Tsuri, I praise You because You are unchangeable and steadfast. You are my protection. My Rock.
Admit – I admit that at times, I allow fear to set in. I forget about Your resistance to change.
Ask – I pray that You will remind me in those moments that You are the same today and forever. Change my mindset of fear. I also ask protection around our schools and children as the school year begins.
Acknowledge – Thank You for Your protection during our summer travels.
Thanks for stopping by today to learn about My Rock. Let me know below or on social media how God's protection gives you peace.





by