Need a Breakthrough? Make Yahweh Your Lord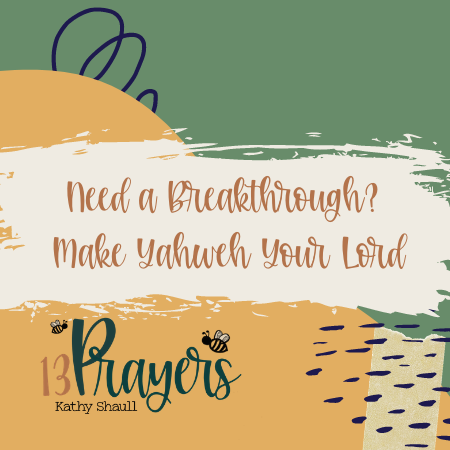 Are you looking for a breakthrough in 2021?
Today's a "two-fer." We're covering 2 names. Why? Because Lord and LORD aren't the same thing, and I want you to understand why.
What's your name again?
Is your name easy or difficult? I'm Kathy – Not Cathy, it's Kathy with a K. As if that's not enough, my maiden name was Parmer. That's Farmer with a P, not Palmer like Arnold. If I only had a nickel for every time I said that. So what did I do? I married a Shaull. Not Shaw or Shawl or even Schaull. There's no 'w' or 'c' or whatever. And it rhymes with "tall," which I am not. It's been an interesting journey.
So, the least I think we could do, when reading our Bibles is to see and understand the profound difference between LORD and Lord. On paper, in our English-limited translations, it doesn't seem like much, but it is. So this post is a "Two-fer," and you'll get to know 2 different names of God today.
JEHOVAH [yeh-ho-VAW] means I AM
Tiny history lesson
The Hebrew word YAHWEH (originally YHWH) is the sacred personal name of God. This is the name God Himself used at the burning bush when Moses asked His name. Exodus 3:14-15, "And God said to Moses, "I AM WHO I AM." And He said, "Thus you shall say to the children of Israel, 'I AM has sent me to you.' " Moreover God said to Moses, "Thus you shall say to the children of Israel: 'The LORD God of your fathers, the God of Abraham, the God of Isaac, and the God of Jacob, has sent me to you. This is My name forever, and this is My memorial to all generations.'(emphasis mine.)

This name is so very sacred that, eventually, it was only spoken by priests in the temple. After the temple was destroyed in 70 A.D., it wasn't pronounced at all. Adonai was used instead. (see below) Eventually, YHWH in Hebrew became JHVH in German which then became JEHOVAH during the Middle Ages.
English lesson time
When you see LORD in all caps, it is THE NAME of God as He sees Himself. Even Jesus Christ's name fits here. "Jesus" is a form of Joshua which means [YHWH saves]. What could be a better name for the Savior of the world?
And when you see "LORD God" written? That is literally YHWH Elohim, or JEHOVAH the Creator. Knowledge of His true NAME implies a covenant relationship – a formal/binding agreement in which both parties have certain responsibilities and can expect certain benefits.
When I read Psalms 103:1, "Bless the LORD, O my soul; and all that is within me, bless His holy name!" it takes on a new dimension in light of this. The Shaull translation would be: "Bless You, JEHOVAH, oh my innermost being and all parts of me! Bless the name YHWH."
Proverbs 18:10 tells me of the power this name, "The name of the LORD is a strong tower; the righteous run to it and are safe." How can we run for safety in a place we don't know or understand? We can't. This is what drives my passion in sharing His name with you.
Adonai [ah-daw-NAHY] means The Lord/Master
Adon is the Hebrew word for "lord/owner/master." Basically someone in authority or high rank. But Adonai is plural! Of course it would be. Our God is 3 in One Holy Trinity. In our English translations this is translated Lord with only a capital L. This is a significant difference reserved only for God. So, farmer Bob may be lord of his castle, but he doesn't get a capital letter in this sense.
When we refer to God as Adonai, we are classifying Him as our Authority (Lord). We are submitting our hearts, our minds, and our lives to Him. To Further the Kingdom!
Look closely with these 2 names in mind. Does it change how you read?
Psalms 16:2, "O my soul, you have said to the LORD, "You are my Lord, my goodness is nothing apart from You."  Do you see how a simple skimming of Scriptures makes this say: "You have said to God, "You are my God…" but there is more to it! This is submission!
Or Phil. 2:9-11, "Therefore God also has highly exalted Him and given Him the name which is above every name, that at the name of Jesus every knee should bow, of those in heaven, and of those on earth, and of those under the earth, and that every tongue should confess that Jesus Christ is Lord, to the glory of God the Father." Why do we bow? Because He is Lord – our Ultimate Authority.
Have I completely confused you yet? Here's a little cheat that might help:
LORD = YAHWEH (when LORD is all caps, it means the name that's all caps) = HIS HOLY NAME: I AM
Lord = Adonai (When Lord has only 1 capital letter, it means the name with only 1 capital) = Master
When we read with the differences in mind, it can transform what you see in Scripture!
Adore-We praise You, JEHOVAH, the eternal I AM, You have been our dwelling place in all generations. Before the mountains were brought forth, Or ever You had formed the earth and the world, Even from everlasting to everlasting, You are God. And Adonai, we submit to Your leadership. You are our Master.

Admit-Sometimes I rush through Scripture and don't savor every word. Forgive me for treating my time with You as a chore to be completed and not relationship building.
Ask-Help me see the nuggets in Your Word – the nuances that will lead to greater understanding and a closer walk with You.
Acknowledge-Thank You for providing the richness of Scriptures for us to explore!
Thanks for spending your precious time with me today. Had you ever studied the difference in LORD and Lord before? Have you taken time to explore what's new on my website? Check out my Vision and Mission here.





by