I have discovered a new method of Bible study/worship: Bible Journaling.
Okay. To be honest, I've been doing this for a while. I just haven't posted anything . But all that changes today.
Let's start with my basics:
The Bible:

First and foremost, this is all about putting my face in the Word. When I illustrate the Scriptures, I am forced to absorb more. I spend more time with God's word. There are many different Bibles out there being used for this. Most have extra-wide margins.

Mine is a 2-column ESV.

The pages are a light cream. The margins are faintly lined and about the same weight as a Moleskine.

Supplies:

"Anything I can find!" I've used-
colored pencils
stickers
acrylic paints
stickers
watercolors: pencils, gelatos, etc
STICKERS
micron pens
STICKERS
die cut pictures
STICKERS (are you seeing a pattern here?)
washi tape
and…STICKERS
3. Which verses? I started with favorites. Sermon passages. Verses from my current Bible study. Anything that I wanted to meditate on. Isn't that great? ANYTHING!
4. Lessons learned:
I am learning how to do lettering.
I try to date each entry.
Time in the Word is what matters.
My art becomes my mini offering, so my INTENT is more important than my PERFECTION.
---
I'll be adding a few Bible Journaling photos each week. If you do Bible Journaling, I'd love to see some of your work, too. Please post to my 13Prayers Facebook page here. (If you haven't liked the FB page, I'd love for you to do so!)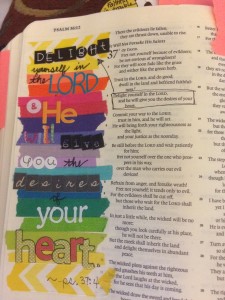 This is one of my recent favorites. The background is all done with various washi tapes. *(I'm a washi addict.) Most of the lettering is done with my vast lettering collection.
See? This couldn't be easier. Just jump in and give it a try. I started in my regular Bible and quickly realized how much I loved this. But it doesn't have to be done in a Bible. Use a notebook. An index card. Whatever you have. Give it a try.





by