If you haven't tried Bible Journaling, you should.
I find I'm spending more time in the Word.
I recall Scripture more easily.
I crave time with my Bible.
I've been doing Bible Journaling now for several months. One of the things I've been working on is LETTERING.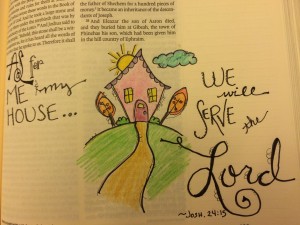 I think it's exciting when you come to a favorite scripture, and it's at the end of the book. Sometimes there is a larger space there – at least in my 2-column ESV Journaling Bible. Here I was journaling Joshua 24:15, "As for me and my house, we will serve the Lord." I got my inspiration from a similar post on Facebook. I wish I'd made a note of the original artist. I wrote out the scripture and added a whimscal house.
Sometimes all I journal is the actual scripture. "For unto us a child is born." I'm a huge fan of Handel's Messiah, so this is one of my favorite passages.
Sometimes I add an illustration. I'm also learning how to do these dangly colored bars as well as Bible Journaling lettering.
The most important thing is that I'm spending time in the word.
I do fight perfectionism, but I'm working on that. For example, the last picture above is of Psalm 40:2. I put a ladder. However ladders would be used from INSIDE the pit to get yourself out. I realize that now, but at the time I didn't think to draw a well or a crane or elevator where someone else was working from outside the pit to bring me up. Oh, I could cover it up, and someday I may. But for now, I know my INTENT was on target, so I'm going to leave it alone.
If you're a Bible Journal-er, please comment and let me know what you would do with an "Oops" entry.
#biblejournaling





by