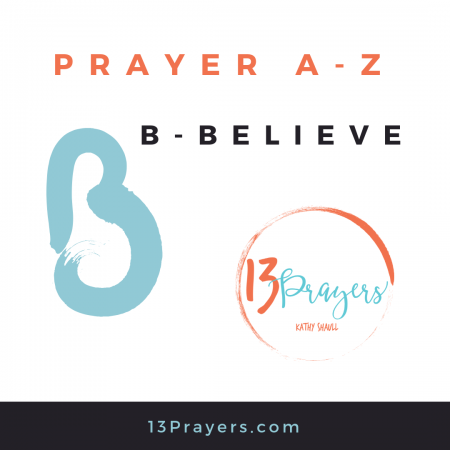 For 2019, God has led me to plan a year-long series on prayer. So, my bi-monthly posts will follow through the alphabet as we explore Prayer A-Z. Today we focus on B for Believe. For a complete list of links as they become live, check out the Prayer A-Z page here.
B is for Believe
The first 3 posts in this series MUST focus on the 3-step process for starting your personal relationship with God. Last time we discussed the first step: Admit. So today we have the Second step: to Believe.
In order to move closer to that intimate relationship, we are commanded to believe some pretty incredible things:
Jesus is God's Son
Jesus was born in human form on Earth to a virgin woman
Jesus lived a human life totally without sin
Jesus died on a cross (a very painful death, by the way) as a sacrifice to pay for the sins of EVERYONE ON EARTH for all time
Let's focus on those last two for just a minute. God sent His 1 and only Son down to Earth to live with us puny humans TO DIE. That's right. BELIEVE this: Jesus was born to die.
Faith is required
I don't know about you, but sending your Son to die doesn't fit into my head all that easily. I have 2 wonderful adult children, so I understand what it means to be a (human) parent. It's a reach for me to believe that a loving God would ask His only Son to endure the atrocities Jesus faced.
Truth Nugget:
Here's the nugget of truth: God loved Jesus, BUT He loved US more.
Humanity had messed up our chance at Paradise early on in the Garden of Eden. Man chose to disobey God. And God wasn't satisfied to let that be the end of the story.
BELIEVE in the plan
Even early on, we can get a glimpse of God's plan. He covered Adam and Eve's newly sinful bodies with animal skins. For there to be skins, blood had to be spilled. And Jesus became the final sacrifice ever needed.
BELIEVE in a miracle
Jesus suffered and died for us. But, that's not the end of the story.
He defeated sin.
He defeated death.
He rose again.
Sometimes it's hard to BELIEVE. Fair enough. It may be a stretch to believe some of this. But that's where faith comes in. "Now faith is being sure of what we hope for and certain of what we do not see." (Hebrews 11:1)
If you can hold on to even one part of the story, you must accept it all.
If you want to read parts 1 and 3 of how to meet Jesus, please follow this link.
Father God, thank you for Your Son Jesus and His ultimate sacrifice for me and for everyone who reads this. Help us believe with a fierce and unbeatable faith.
Thanks for stopping by today. I'm praying for you.





by