You can count on God to accomplish His plan for your best.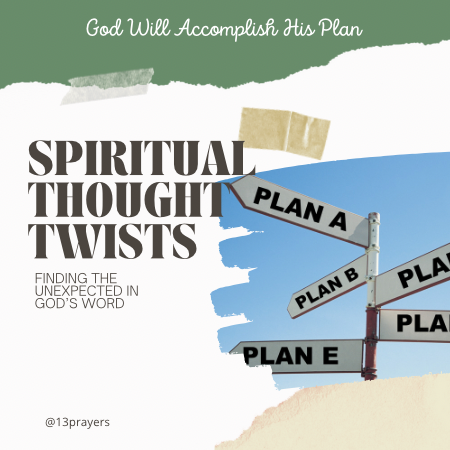 How did God accomplish that?
One of the life miracles I marvel at is meeting my Hubby. We both started our teaching careers in the same district in the same year. I marvel at everything God had to do to accomplish that:
We graduated at different times from different universities
We both applied to multiple schools across Oklahoma
We both ended up in Jones – Hubby at the High School, & I was hired for 5th grade in a different building.
As I moved to the area, I was reassigned to 1st Grade which was housed in a wing of… wait for it… the High School!
Our planning times – organized by 2 different principals – overlapped, and we shared a common teachers' lounge.
That's certainly a lot of things God had to line up to accomplish His plan to bring us together!
Note what God says
All Scripture is important. That being said, any time the Word tells us what God actually says, we need to pay special attention. (Remember that things went badly for Adam and Eve when they ignored this advice…)
Today's verse is Is. 55:11, "So shall My word be that goes forth from My mouth; it shall not return to Me void, BUT it shall accomplish what I please, and it shall prosper in the thing for which I sent it." The verse before it speaks of how rain and snow water the earth to make things grow and prosper. And here God promises that His Word does the same thing.
God's 3 Accomplishment Promises
I love when God makes promises because I know He is faithful. Our verse has 3:
His words are effective

– What exactly does "will not return void" mean? In the CEV, the verse reads, "That's how it is with My words. They don't return to Me, without doing everything I send them to do." What a powerful promise!

His words accomplish what God wants

– Consider the impact of this: the Scriptures were written thousands of years ago, but God is still using them to accomplish what He wills.

His words will prosper His plan

– You are part of His plan, my friend. He can accomplish His plan and it will prosper – if you know what His plan is.
What is His plan?
In a nutshell (or in my website tag line…), His plan for us is this:
Further the Kingdom
Glorify God
Adore – I stand in awe of my God who provided Scripture and promises that He never fails to keep.
Admit – I don't always spend the time in Scripture I should. I see others who are true students of Your Word, and I am humbled.
Ask – I ask for a renewed hunger for Your Word and the discipline to study it.
Acknowledge – Thank You, Abba, for always having my best in mind.
THANKS FOR STOPPING BY TODAY. DROP ME A LINE BELOW OR ON INSTAGRAM AND TELL ME A PROMISE FROM SCRIPTURE THAT YOU CLING TO.





by