DAY 1 Welcome & Blessings!
The 10 Free Templates list with links is on my Novel Planning Page. You'll also find information there about the additional template set I have available. Click here for more information. (All templates are available June 14, 2021.)
Me
Let me introduce myself: I'm Kathy Shaull, author of Choosing Justice, Ringing Bells, and Taking Liberty, a regional suspense trilogy set in rural Oklahoma. I also blog here at 13Prayers.com where I write primarily on what I see God doing & saying in scripture. I choose to share my templates because it took 25 years to get my first novel into shape. I want your writing journey to be much quicker! We'll start with an elevator speech.
My life story in a flash: I had these people in my head and a vague story idea. After the birth of my son, I would write when I put him down for a nap. No real outline. Just the story the way I saw it. I was so proud when it was done. Silly me. It was massive and…terrible since I just wrote "by the seat of my pants."
In the quarter century since, I've studied the art of novel writing. I've written and rewritten that same story. I've created and used the templates I'm giving you here. And I am positive that my published version is better than the first. Unrecognizably better. I'll give examples from my book along the way.
You
You have a story to tell. It's whirling around inside you. You think about it when your mind is still. You may even think about it when it would be better for you to do something else. It wants out.
Alice Hoffman said, "I write because I can't not write."
You get that. The words churn in your brain and will explode if you don't tame them. Let's plan your novel in such detail that you can write a knockout rough draft of your story.
But, what is your story? If we met on an elevator and had only 45 seconds, could you tell me the essence of it?
Not that we are going to chisel this in stone. Not that you will be chained to this for all eternity. Today. Right now. What is your story? Write the backcover copy for your paperback. Then narrow it down to a single sentence.
Me? When I started the first version of my book, my Elevator Speech might have rambled like this:
There's a sheriff in SW Oklahoma. His mysterious friend comes to town, chased by the military or other government agencies. Jeff smooths things over, and keeps Blaine in town. But he thinks he's acting funny. Then local people start dying, and the sheriff is implicated by letters on the radio…
(Are you confused yet?) Yeah. That's kinda the way the whole book went. Enough of that.
I changed everything (EVERYTHING!), so forget all that nonsense and start earlier in my story.
Today, the cover reads:
Ike Maxwell had everything oil and cattle could buy until grief and whiskey clashed seventeen years ago. Now sober and finally off parole, he is a man on a mission: mend fences with Justice, the son he's avoided all these years, before a third heart attack claims Ike's life.
But Justice has Special Forces training and no reason to trust the man who almost killed him. His father's sudden appearance feels more like an IED than an olive branch. Most of all, Ike's arrival threatens to reveal the one secret that could destroy Justice's marriage.
Can they find forgiveness for their past sins? Is there time to rebuild their faith and their relationship before tragedy strikes again? Can this prodigal father convince his son that this time…he is Choosing Justice?
My single sentence: A prodigal father tries to reconnect with the son he almost killed and who now has Special Forces training and no reason to trust the man.
You? Get your main points ready. You may not need everything I put in the template. Think of it as a starting point. (I didn't reveal the villain on my cover, and believe me – there's a whopper of a villain.)
Oh, and Theme? You may not know that yet. Basically, it's what the story is about under the plot points. There's a huge list of common novel themes here.
*Theme is often stated outright in the first 5% of the book (usually said by someone other than the main character.)
I was lucky. I knew from the moment I sat down to write THIS version: Everyone deserves a second chance: Fathers. Sons. Everybody.
Remember:
My FREE novel planning templates are available from my Novel Planning page here, along with links to the brief blog posts that explain them. You will also find links to posts describing my additional planning templates that are available here in my Shop.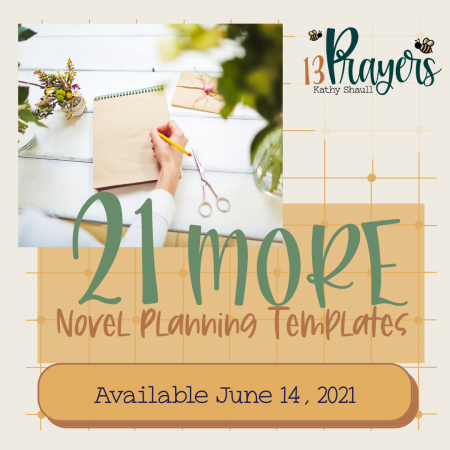 ---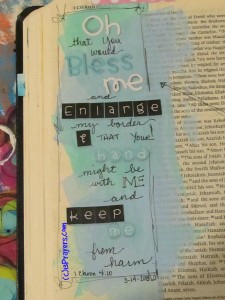 When I started my blog, I established some ground rules. I outlined 13 distinct prayers that I have for each reader (see Start Here). One ground rule was that every post would honor God. So I'm including some of my Bible Journaling at the end of each post.
If you have any questions or comments, you can email me at kathy@13prayers.com or find me on Facebook at 13Prayers 
Save





by