As I review the past 12 months, I can't help but say "Thank you" to each of you for reading my musings. Thanks for sticking with this Alphabetical Examination of Prayer. Some of you started with the beginning, and some of you joined us mid-stream. Either way, the Prayer A to Z page will be around for the indefinite future.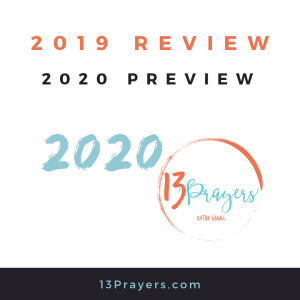 A Review of 2019:
In this review of content, I give God all the credit for the concept of Prayers A to Z. It sprang into my head that there are 26 letters of the alphabet, and I needed 26 posts (52 weeks/2) for the year. Hallelujah! So I started jotting down words. For some, I had multiple options to choose from. But, the list flowed forth quickly… except for one letter. For "X," I had to look up words because I didn't want to cheat and do "eX-" something. That was all my doing because my "X" word vocabulary is apparently very limited.
Looking Forward:
With the coming New Year, we're going to change things up just a bit.
Frequency – For the first two weeks of 2020, you should expect to find me in your inbox DAILY. Shocker! I'm taking those few days to give you a closer view of each of my 13 Prayers and an explanation of why that prayer is meaningful to me. After that, we'll return to a bi-weekly schedule.
Content – We're leaving the Alphabet behind us for 2020. My current plan contains the 13Prayers for January, followed by a study on the Fruit of the Spirit. We'll finish up 2020 by looking closely at the Proverbs 31 Woman, starting mid-July.
Personal update – I'm working hard to finish the 3rd installment of the Maxwell family. This book, Taking Liberty, is slotted to come out in 2020. Fall, I think. It may end up being the end of that series. And since I can never have too many projects, I'm looking at an illustrated children's book or two in my future. And possibly a book-length, in-depth Bible study.
Your input is vital.
I'd love to hear from you about what content is most meaningful to you and how you found me. My focus here has morphed in new directions more than once. I'd love for you to take this tiny survey here. It has only 4 questions.
My prayer for you for 2020:
Most precious Abba, Father God, I ask special blessings on all who read this. May Your hand be more visible in their lives. I ask that Your voice be distinct and clear as You direct their paths and choices daily. May Your Spirit flood over them to overflowing until the people around them can no longer see the individual, but they see You and Your love. Hold us tight through the tough times, Father. Allow us to crawl into Your lap for comfort. Whisper into our souls the deepest secrets of Your Word as we study the pages. Give us Your eyes and heart to see the needs of those around us. Grant us a new boldness to approach You with big prayers and the faith to see them through. In Christ's name, we pray this. Amen.
Thanks for stopping by today. All the Prayer A to Z posts are here. Praying for your Blessed 2020.





by