V is for Vernacular is the latest post in the Prayer A to Z series. Other posts are here.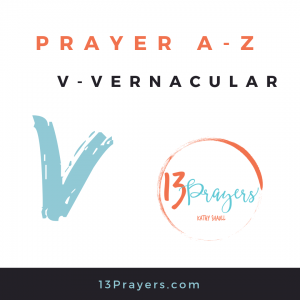 Vernacular?
Vernacular is defined as language native or indigenous, as opposed to literary or learned. So, wouldn't it make sense that God prefers us to just talk to Him in our native language? Our Vernacular? We are, after all, building a relationship.
Keep your flowers in the garden
Perhaps you've heard someone who prays with a myriad of flowery expressions that are designed (I'm guessing) to impress the human ear. With "thee" and "thou" in every sentence, they sound like they've stepped out of a Shakespearean play. It's the 21st Century! Does God expect us to make out requests to Him sound like we "dost lift mine eyes unto Thine Heaven to beseech Thee: Do not forsake me."
Really? Do those folks actually use "dost" or "beseech" in daily conversation? Do they answer the phone in such a manner as this:
"Greetings. I beseech thee to speak with me. What is thine need?"
Or, if they are taking your order at the drive thru:
"Dost thou desire fries with thine quarter pounder?"
Nope.
So why the show to talk to God?
Jesus prefers your vernacular.
Christ knew there would be showoffs. In Matt. 6:7-8, He warned us about them. He chose to hang out with fishermen more than scholars. He began by telling us to pray in private (and that was the example He set for us as well) but, then He tells us not to babble (CSB) / heap up empty phrases (ESV) / babbling like pagans (NIV) / saying things that mean nothing (NCV).
But notice the motive behind their many words: thinking they will be heard.
Keep it short.
Short and sweet is what the writer, David, recommends in Ecc. 5:2. Not big flowery speeches. Why?
Because: God. knows. your. heart.
Maybe that's the most important prayer of all:
(Ps. 139:23-24)
Search me, O God, and know my heart; Try me and know my anxious thoughts; And see if there be any hurtful way in me, and lead me in the everlasting way.
Thank You, Abba, My most precious Father, for loving me and my simple and short prayers. Bless each one who reads this. I know You've got things covered today – no matter what comes up. Know our hearts, LORD.





by