Humans are visual creatures.
When I'm writing, I'm trying to paint a picture for you with my words. If I cannot pull a scene or location from personal experience, then I'm relying on my imagination. But real life wins. I need to do the research.
The best scenes come when you KNOW your location. Oh, I don't mean that the reader will be forced to endure 15 pages or paragraphs – or even sentences – of description. But a location provides its own feeling, and I do my best writing when I am knee-deep in it. I need to do the research.
For my first novel, Choosing Justice, a critical scene took place at a pumpjack. Now, having grown up in Oklahoma, pumpjacks are a common sight. You see them all the time as you drive down the highway. We have them on the state capital grounds. They're everywhere.
But that doesn't mean that I had ever driven up to one and stood beside it.
This scene is what broke the Maxwell family. It happens well before the book begins, and it is only told as a memory – in bits and pieces. But everything in the book happens as a result of what happened at this location. The picture wasn't something I wanted to pluck off pixabay or some other photo site. I needed to stand at the pumpjack and experience it for myself. Research it and make it real.
I had plenty of pumpjacks to choose from in my little corner of Oklahoma.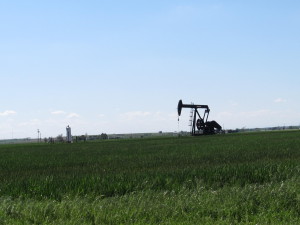 I have to admit I felt a bit unnerved standing there. Like I could feel the gravity of the situation. I knew it would be a large structure, but I felt very tiny and insignificant. Feelings I had not expected. I'm not sure you will understand, but a character died at the fictional pumpjack. And I felt the need to be very quiet and reverent there.
So when I put Ike at the pumpjack's base, I had a much better idea of how he felt. Problem solved. Research triumphs.
Over the next few weeks, I'll be sharing photos of inspirational locales that show up in my fictional universe of Big Tree, Oklahoma, and Riata, New Mexico. You're welcome to come along for the ride.
If you haven't read a few pages from Choosing Justice, why not do that now? You can get a good start on Amazon.





by