Q is for Quiet is the latest post in my 2019 series on Prayer A to Z. The other posts in this series can be found here.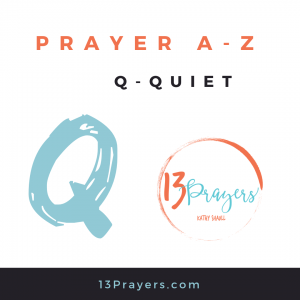 Hush now. Be Quiet.
No one said your prayers had to be loud to be powerful or heard. Quiet is powerful. In fact, in Matthew 6:56, Jesus Christ said, "Whenever you pray, you must not be like the hypocrites, because they love to pray standing in the synagogues and on the street corners to be seen by people. Truly I tell you, they have their reward. But when you pray, go into your private room, shut your door, and pray to your Father who is in secret. And your Father who sees in secret will reward you."
So yes, The Son of God is telling you to pray in private – in the quiet of your own room – as He did.
Hannah is another example
Hannah wanted a child. She went to the temple and prayed for one, year after year. Then one year, she made a vow that – if God would hear and give her a son – she would dedicate him to God. (1 Samuel 1:13) She prayed silently, and the priest Eli thought she was drunk. She explained. Eli blessed her, and God granted her request. BTW, she kept her promise, too.
Be Quiet and let God work.
Sometimes we get so worked up that we just need to sit down, breathe, and let God take over. Like when Moses had led the Israelites from Egypt, and suddenly Pharaoh and his army decided to chase them down. So when the people started whining to God, Moses told them, "Don't be afraid. Stand firm and see the LORD's salvation that He will accomplish for you today, for the Egyptians you see today, you will never see again. The LORD will fight for you, and you must be quiet." (CSV) Ex. 14:13-14
I've honestly read this verse many, many times – usually in translations where Moses is telling them to be still. This translation makes more sense to me. Basically, Moses is telling them to HUSH their whining and let God work. The people of God crossed the sea safely. The waters stood high, and they walked on dry ground. But when their enemy had left the safety of the shore, the water fell, and they Egyptians vanished. Remains of Egyptian chariots have been found at the bottom of the sea. Praise God!
Now, I'm absolutely positive that while Moses and his people were rushing past the walls of water, they were praying. Who wouldn't be? But this leader has commanded that they be quiet. Maybe to quench any temptation to spread fearful speech or doubts. Or maybe to simply focus their attention on what God was about to do.
Maybe we should get Quiet and be in awe as well.
Abba, Father God, I praise You that You allow us as Your children to crawl up in Your lap and whisper in Your ear a Quiet prayer today. Allow us to witness Your mighty works today. Something that could only come from You. Part the waters of our disbelief, Father. Draw us close. That's where the best comfort lies.
Thanks for stopping by today.Do you have a spot where you can meet God in a quiet place? Find me on social media and let me know. The other Prayer A to Z posts are here. Please share them with a friend.





by